TaxiCaller Newsletter - December 2016
Recent releases
We added some new features to the system, so we'll go over some of the main updates below to give you more detailed information. To learn more about all of the changes, please see the release notes (16.5) sent by email.
- New Jobs Overview tab
Dispatchers will now have access to a new view of jobs at the top of the dispatch console with collected info about all jobs (future, assigned and unassigned) in one tab called Jobs Overview.
In this view, jobs are in chronological order, so operators will have an easier time finding a specific job. Dispatchers can also search for jobs by pick up/drop off and passenger name/phone number.

On each row of a job, dispatchers will see when it was assigned, the current status, which car took the job, vehicle type, zone, pick up/drop off, specific times for job start/waiting/POB, driver ETA, passenger info and booking source.
To access this new view of the dispatch console, click on the icon to the right of the Preferences tab at the top of the screen and choose Jobs Overview. Choose Main to return to the normal view of the dispatch console.

-Dynamic Reports
It is now possible to use the new Dynamic Reports Editor to create and edit your own custom reports. With this feature, you can generate large report files and download in multiple formats such as PDF, XLS and CSV for simple file transfers.
Access the Dynamic Reports Editor here: https://admin.taxicaller.net/admin/reports/editor.php


To make it easier to begin using this functionality, there is a small selection of template reports as a starting point in the Custom tab of Reports in the Admin Panel, including account jobs, driver jobs, finished jobs, multi-company and zone reports.
Access Dynamic Report templates here: https://admin.taxicaller.net/admin/reports/custom.php


- Recorded voice messages
We have added a new ability to the driver app to allow recording, sending and receiving voice messages from drivers to dispatchers.

This will minimize the need for a driver to write messages by hand, which is forbidden in many countries if done while driving.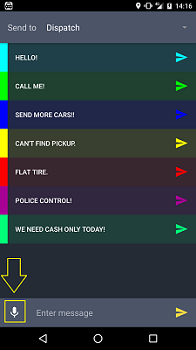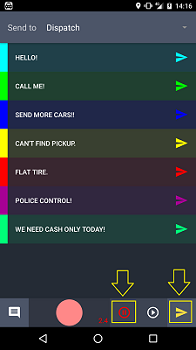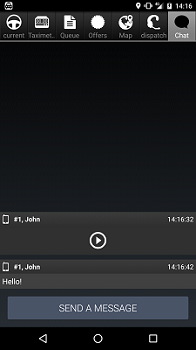 Drivers will access this feature in the Chat tab of the driver app and press the white microphone icon to begin recording a message. To end the recording, they will press the red pause icon and then the yellow paper plane icon to send the message. To review the message before sending, the driver can press the white play icon in the middle.

Drivers can record messages up to one minute long.

We will add support for dispatchers to record messages and a setting to disable this feature in the near future.
- Driver documents storage
To provide a simple way for your company to collect and store all the important documents needed to keep on file for your drivers, we've added a storage feature.
This will allow you to add scanned pictures of permits and driver's licenses to drivers' profiles for example, so everything is easily updatable and accessible for your records.


To use the documents storage feature, you must first create permits for the drivers/dispatchers.
Access the Permits section here: https://admin.taxicaller.net/admin/settings/permits.php


Once you've created the permits, you will see the documents storage feature appear on the user profiles of your drivers and dispatchers so that you can upload scanned images or documents by clicking on the cloud icon as shown below.
Happy Holidays from the TaxiCaller family to yours!

It's that time of the year again, and we'd like to thank all of our incredible customers for helping make TaxiCaller what it is today. We've had an amazing year, and we hope you have, too.
We are proud to partner with all of you, and we wish you wonderful, holiday moments with your families and a happy new year!
To get you in the holiday spirit, check out the snow falling at our main office:
https://twitter.com/taxicaller/status/804600031428964352
Feature Highlights:

- Vehicle and User filter on Dispatch Console
You can toggle between different vehicle and user tags (and other criteria such as how many passengers, bags, wheelchairs and cars are needed for a job) to show only the vehicles that suit your choices. There is a toggle icon in the dispatch console in the bottom right corner of the map which you can press to show the criteria to filter vehicles (see below).
Check the setting "Filter vehicles on job options" in the Preferences tab (as seen above) to be able to see only those vehicles that fit the criteria you choose when putting in a new booking in the dispatch console. We've selected 8 passengers and one wheelchair in the toggle section so only those vehicles show on the map as we see above.
Here, we've chosen 8 passengers and one wheelchair in the Job Info field, so only those vehicles that support that many passengers and have support for at least one wheelchair show on the map.

This will make it easier for your dispatchers to quickly see the cars available for a job.


Contact

If you have any questions or would like to learn more about something in this newsletter, please don't hesitate to contact us.

Skype: firstlinesupport.taxicaller
Telephone: US (NY): +1 646 583 0590
US (CA): +1 805 626 8268
UK: +44 208 123 1441
INT: +46 8 5592 1950