TaxiCaller Newsletter - March 2016
Recent releases
We added some new features to the system that have been published, so we'll go over each of the these here below to give you more detailed information.
- Updated payment options check box
After listening to your feedback, we added an update to the system to allow you to choose whether you want the new cashiering flow or a quick version (which is now the default).
To keep the new cashiering flow, please go to Settings > Dispatch > 1.General > Payment options to see the new setting "Detailed payments" and check the box.
If you do not wish to have the detailed cashiering flow, simply leave that setting unchecked (which is now the default).
*Update the driver app to the latest version (version 1.9.52) for the quick version to be available.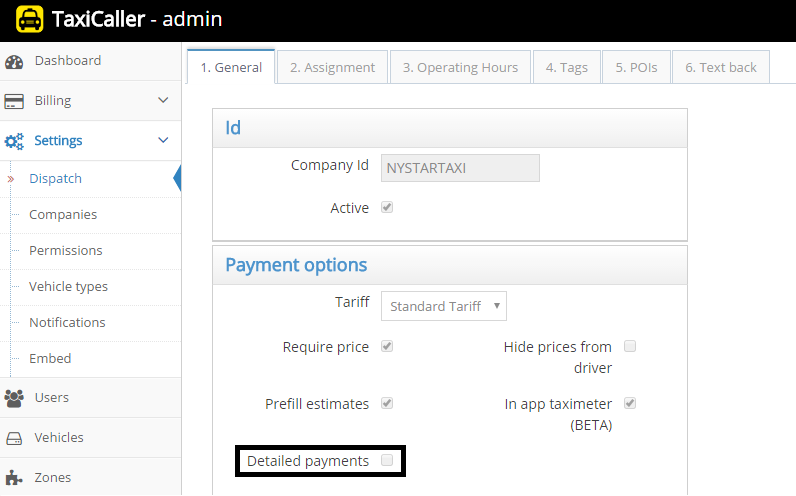 - Promo codes
With the release of the passenger app version 3.0, you can now use the promo codes feature to create special offers for your customers on your rebranded passenger apps. You'll be able to set up campaigns, specify what the promotional offers entail, the total number of promo codes, how many you're allowed to use and much more!
(Please contact us if you did not receive the promo codes tutorial)

Set up the promo codes here: https://admin.taxicaller.net/admin/promotions/campaigns.php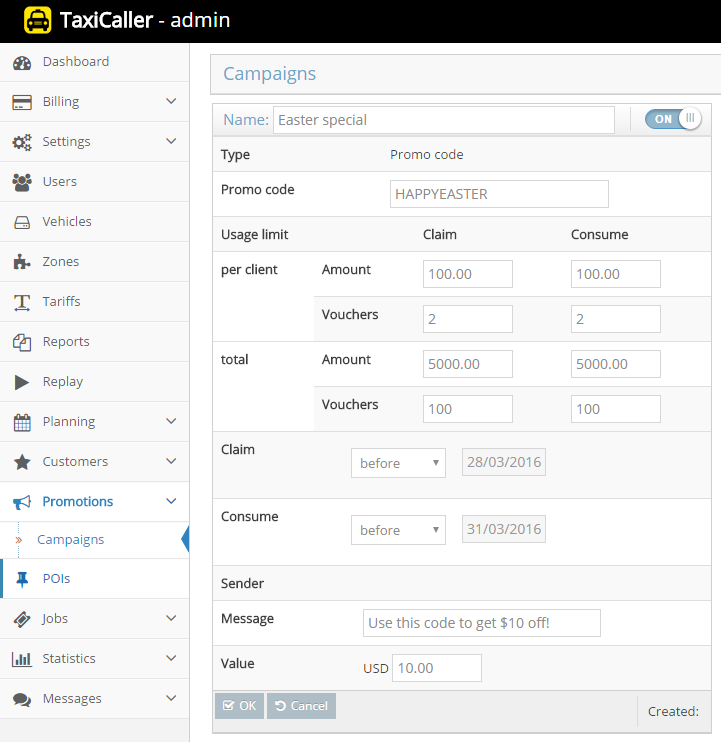 The customer will add the promo code in the passenger app as seen on the following page. The code can have an expiration date and a limit to how many times it can be used. The passenger can even invite friends to take advantage of the promotion within the app.


The discount from a promo code entered by a passenger on a booking will be automatically consumed in the driver app and clearly outlined to the driver.



- New passenger app for both platforms (version 3.0)
We've created a new version of the passenger app, featuring a better-looking, simpler and more efficient booking interface than its predecessor. This new version of the passenger app is now available on both the Android and iOS platforms. Check out the new design for yourself with the links below!


Download link Android: https://play.google.com/store/apps/details?id=com.taxicaller.ap
Download link iOS: https://itunes.apple.com/us/app/taxicaller/id604708748?mt=8
*** The promo codes feature is only available on rebranded passenger apps.
What's coming:


- Dispatch console reveamp
We're close to luanching an update to the dispatch console to modernize the look and feel, and also allow for more user customization. You will be able to choose whether you want certain sections more visible and move them around, with more options to be continually added. We plan to launch the first version in Q1 2016.


- Dynamic reporting system
Along with the dispatch console revamp, we will also enable full customization of the reports section so that you can choose which variables you would like to use to compile your own custom reports. We will have some default templates based on current commission-required reports, but you will also be able to save your own for easier report generation the next round. We are aiming to release this in Q3/4 2016.


- Job events for dispatch console
We will be adding the job events information (available in the Job Editor tab of the admin panel) to the dispatch console so that dispatchers will be able to see all the events related to a specific job (i.e. who declined/accepted it, who created the job, etc) without having to go to the admin panel.
Feature highlight

- Business intelligence tool
The business intelligence tool allows you to track various metrics of your business in a clear and dynamic way. You can add metrics (i.e. number of reception bookings, app bookings, number of no-shows, etc.) and then decide the time frame of that data. You're also able to configure business goals and create scorecards, where you can set goals to achieve (i.e. X number of app bookings per month) and track your progress.
Access the new business intelligence tool here: https://admin.taxicaller.net/admin/stats/dashboard.php




Contact

If you have any questions or would like to learn more about something in this newsletter, please don't hesitate to contact us.

Skype: firstlinesupport.taxicaller
Telephone: US (NY): +1 646 583 0590
US (CA): +1 805 626 8268
UK: +44 208 123 1441
INT: +46 8 5592 1950