TaxiCaller Newsletter - February 2016
Recent releases
We will be adding some new features to the system this week, perhaps most notably the promo codes together with the new cashiering system. We'll go over each of the these here below to give you more detailed information.
- Updated payment options
Connected to promo codes, we've also added a completely new payment option interface. This allows you to both add extra charges at the end (tolls, parking, soiling fee, etc.) and to split the payment up into multiple payment methods and amounts. You can now specify, for example, that part of the cost of the trip was paid with a voucher (promo code) and the rest was paid in cash.


Specifying costs
Adding payments


- Card-present payments in US and Europe
We're now able to offer this function within the US, as well as Europe, through the payment provider SumUp (https://sumup.com).
You can see which countries SumUp is currently available in by going to their website (link above), scroll to the bottom of the page and look on the right hand side under "SumUp worldwide".

If you would be interested in being able to accept card present-payments through TaxiCaller by using SumUp, please contact us for further details.
- New passenger app for Android (version 3.0)
We've created a new version of the passenger app, featuring a better-looking, simpler and more efficient booking interface than its predecessor. This new version of the passenger app is already available on the Android platform and the iOS version will be published to the App Store in the coming weeks. Check out the new design for yourself with the links below! (iOS version coming in about 2 weeks)


Download link Android: https://play.google.com/store/apps/details?id=com.taxicaller.ap
Download link iOS: https://itunes.apple.com/us/app/taxicaller/id604708748?mt=8
- Promo codes
We've added support for the use the promo codes so you can create special offers for your customers on your rebranded passenger apps. You'll be able to set up campaigns, specify what the promotional offers entail, the total number of promo codes, how many you're allowed to use and much more!
(Please contact us if you did not receive the promo codes tutorial)

Set up the promo codes here: https://admin.taxicaller.net/admin/promotions/campaigns.php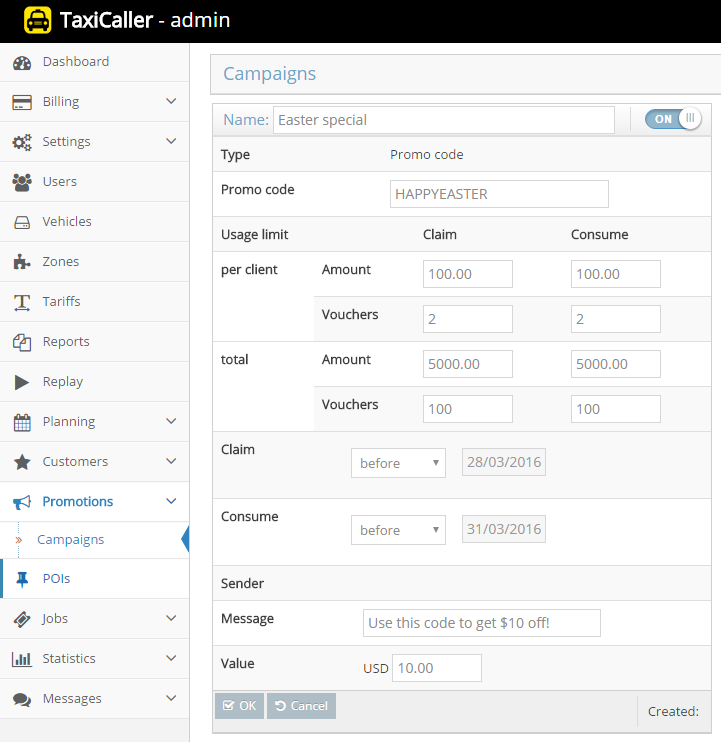 Feature highlight


- Notification center
This offers the same ability as the textback to have SMS notifications sent to the customers, with additional notification fields and ways they can be sent.
The SMS notifications configured here will be sent from a dedicated SMS app, called TaxiCaller Envelope, which you will need to install on a dedicated Android device that you simply leave in your office, instead of sending them from the driver's device.
Access the new notification center here: https://admin.taxicaller.net/admin/settings/notifications.php

Please contact us if you would like a setup guide for TaxiCaller Envelope.



Contact

If you have any questions or would like to learn more about something in this newsletter, please don't hesitate to contact us.

Skype: firstlinesupport.taxicaller
Telephone: US (NY): +1 646 583 0590
US (CA): +1 805 626 8268
UK: +44 208 123 1441
INT: +46 8 5592 1950