TaxiCaller Newsletter - December 2015
Recent releases
We have recently added some new features to the system, perhaps most notably the notification center. We'll go over each of these here below to give you more information.
- Notification center
A completely new notification center has been added to the system. This will eventually replace the textback feature and offers the same ability to have SMS notifications sent to the customers, with additional notification fields and ways they can be sent.
The SMS notifications configured here will be sent from a dedicated SMS app, called TaxiCaller Envelope, which you will need to install on a dedicated Android device that you simply leave in your office, instead of sending the texts from the driver's device.

Access the new notification center here: https://admin.taxicaller.net/admin/settings/notifications.php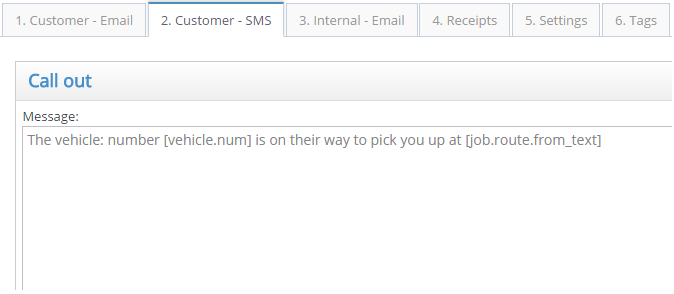 Notifications

We've added support for sending messages at several new stages of the job:

- Call out (when the driver starts the job and is set to "Callout")
- Passenger dropped off (when the driver clicks "Delivered")
- Passenger on board (when the driver clicks "POB")
- No show (when the driver cancels the job and selects the reason "No show")
- Canceled by passenger (when the passenger cancels the ride)
- New prebook (when a new prebooking is entered)
- Waiting for passenger (when the driver clicks "Wait")
- Cancel (when the job is canceled for another reason, either by the driver or by a dispatcher)

The actions listed above can trigger three different types of notifications:

1) Customer – Email (sends an email to the customer on an email address entered on the job)
2) Customer – SMS (sends a text message to the customer on the telephone number entered on the job)
3) Internal – Email (sends an email to a pre-specified internal email address of your choosing)
Receipts
If you are using the support for accepting in-app payments, you now have the ability to edit 5 custom fields for receipts sent to your clients. For example, you can add some custom information about your company, a promotional offer, or anything else that isn't already included by default.
Settings
In section number 5, "Settings", you will find the option to set up a custom emailer under "Outgoing emails". By connecting an email account of your own, the notifications configured in the section "1. Customer – Email" are sent from your address. This isn't mandatory. If you don't want to use your own email account (from your domain), the emails will still be sent from [email protected] instead.
Below the custom emailer, you have the option to specify an internal email. It is to this email address any internal emails you've configured in the section "3. Internal – Email" will be sent.

At the bottom, you will find a download link to our Envelope app (the application that will send the texts specified in "2. Customer – SMS") on your dedicated Android device. This is mandatory if you want automated texts to clients. More information about the TaxiCaller Envelope app and how to set it up can be found in the setup tutorial. Please contact us for more details.


Tags
On section 6 in the notifications page, "Tags", you will find all the tags available for use in the notifications. Tags can be used to get real data from the job included in these generic text messages, by exchanging it with the corresponding data on the job.
Here's an example of a notification containing tags:
Hi [job.cl.first_name]! Your ride is on its way to pick you up at [job.route.from_text]. Have a pleasant ride!
Which will then be presented to the customer as below:
Hi Amanda! Your ride is on its way to pick you up at 613 5th Ave, New York, NY 10022, USA. Have a pleasant ride!
-In-app taximeter (BETA)
We've released a BETA version of an in-app taximeter which is integrated to the latest version of the driver app. This is an excellent, easy-to-use alternative to a physical taximeter. The in-app taximeter generates a price based on your selected time and distance rate in our tariffs section, using the movements tracked by the device's GPS.


How it works:
The distance is retrieved from the GPS-receiver in the driver's device. It then updates and applies the distance and time to the current job until the fare is completed. You also have the ability to pause and reset the meter if needed.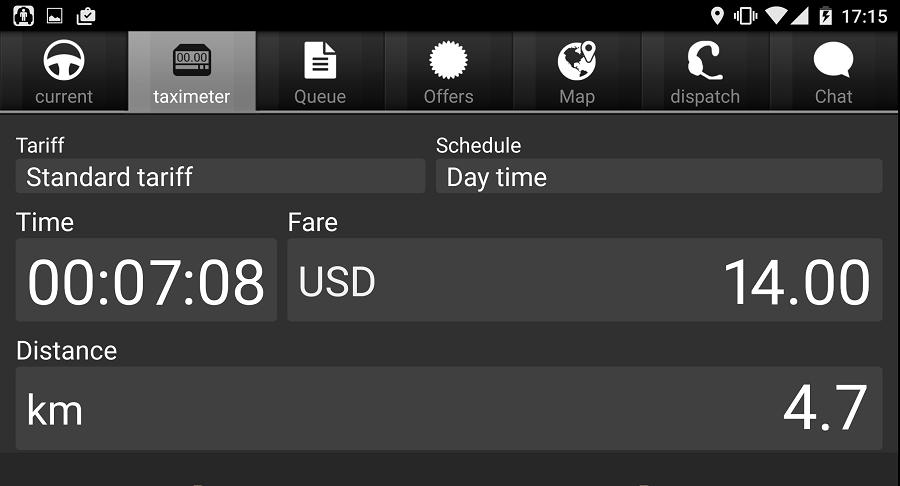 Note that you need to have configured tariffs and specifically a taximeter tariff on your account for this feature to be available.
Access the tariff section here: https://admin.taxicaller.net/admin/tariffeditor.php
You must also have the option "In app taximeter (BETA)" enabled. This option can be found under Settings – Dispatch – 1. General – Payment options, here:
https://admin.taxicaller.net/admin/settings/dispatch.php
Also note that because the in-app taximeter uses the device's GPS receiver to calculate the distance driven, the accuracy of the calculation is dependent on the quality of your GPS signal during the ride.
-Business intelligence tool
The business intelligence tool allows you to track various metrics of your business in a clear and dynamic way. You can add metrics (i.e. number of reception bookings, app bookings, number of no-shows, etc.) and then decide the time frame of that data. You're also able to configure business goals and create scorecards, where you can set goals to achieve (i.e. X number of app bookings per month) and track your progress.
Access the new business intelligence tool here: https://admin.taxicaller.net/admin/stats/dashboard.php


Dashboard
The dashboard is where you'll find the various statistics of your business and where you can even set up your own metrics. You can view interesting summaries of your business' data on a daily, weekly, monthly and yearly basis.
When viewing each metric you've added, you also get a comparison with previous days, months oryears, to see in which direction your business is developing.

Goals
You may have a vision for your company that you're looking to accomplish. Using the goals tool now available can be a great way to bring that vision to reality. You can easily see where you might want to invest more resources in order to reach your goal with the metrics here. You can also specify a target for each sub-goal (i.e. 500 dispatch bookings a month) and then track your progress.
The same as in the dashboard, you can hover your cursor over each staple to see detailed information on a period.


- Invoicing system
An invoice generator tool has been added to the system. This allows you to generate finished invoices for your account customers. Once an invoice is generated, you simply download it to your computer, and it's ready to be sent!

Access the invoicing tool here: https://admin.taxicaller.net/admin/customers/invoicing.php

Contact


If you have any questions or would like to learn more about something in this newsletter, please don't hesitate to contact us.

Skype: firstlinesupport.taxicaller
Telephone: US (NY): +1 646 583 0590
US (CA): +1 805 626 8268
UK: +44 208 123 1441
INT: +46 8 5592 1950