TaxiCaller Newsletter - April 2015
Recent releases
We have recently added some new features to the system, perhaps most notably in the admin panel. We'll go over each of these here below to give you more information.



- Admin Panel changes


Require mobile data – We have added an option to allow account owners to require their drivers to have mobile data enabled on their devices to use the system. Designed to prevent drivers from cheating the system by turning off their internet connection.


Device unreachable – We have added an option to allow you to choose what happens with a driver in the event that the system can't establish communication to a car when a job is offered. You now have the option to automatically set them to away, do nothing, or to place the driver at the end of the queue if this happens. Designed to avoid sending more job offers to a car with temporary loss of internet connection.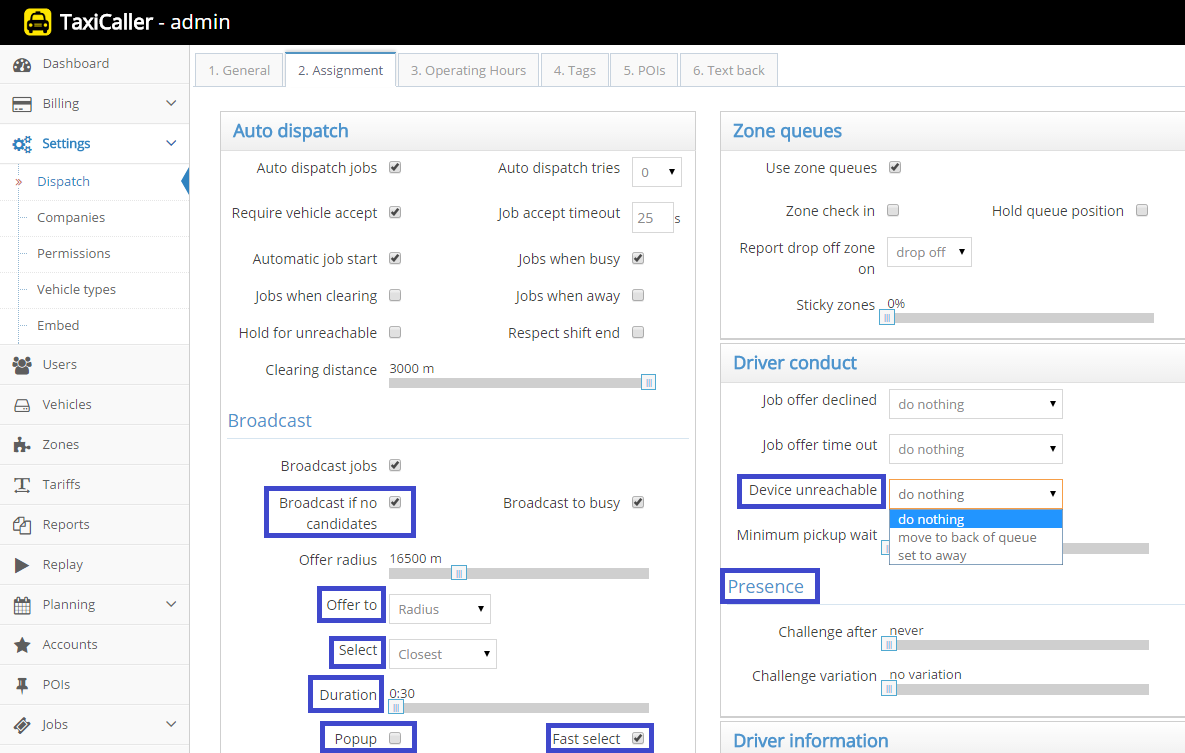 New broadcast and bidding system – The broadcast system has been updated to make it customizable. It's now possible to set the duration of the broadcast offers, how it selects candidates to offer the job to and how it selects the winning bid. Options for selecting candidates is by distance from pick up (Radius), from same zone (Zone) and complete zone chain (Zone chain). Additionally, you also have the ability to select whether broadcasts should appear as popups in the driver app, or if it should just appear in a list of offers, as well as the option of selecting if the system should go straight to broadcasting the job if it doesn't find any candidates for regular dispatching, or if it should await candidates.


Presence challenge – We have added a function to challenge a driver's presence. This feature is to prevent drivers from queuing up in a zone and then leaving their phone unattended. A presence challenge will be sent from the system to the driver to see if he is working. If the driver does not respond within 4 minutes, he is logged out of the system. In the admin panel, you can adjust how often the challenge should be sent, together with a random factor so that drivers cannot predict when they will be challenged.


Vehicle types – We have added support for multiple vehicles types, including the ability to create custom vehicle types.

Tariff rules on vehicle types – We have also added support for assigning tariff rules based on vehicle types.


Require app version – We have added a tool to allow you to make sure that your drivers are not using outdated versions of the driver app. You can now decide the minimum version of the driver app required to be able to start a shift, for both the Android and iPhone platforms.


Job priority system - A job priority system from 0-5 has been introduced to the dispatch console, where 5 is the most important job. It works so that within a radius you set in the admin panel, no jobs will be dispatched before the higher priority jobs are dispatched to and accepted by a driver.
An additional option included is to set block on same level. This option will then require all jobs to go out in chronological order (the order in which they were created).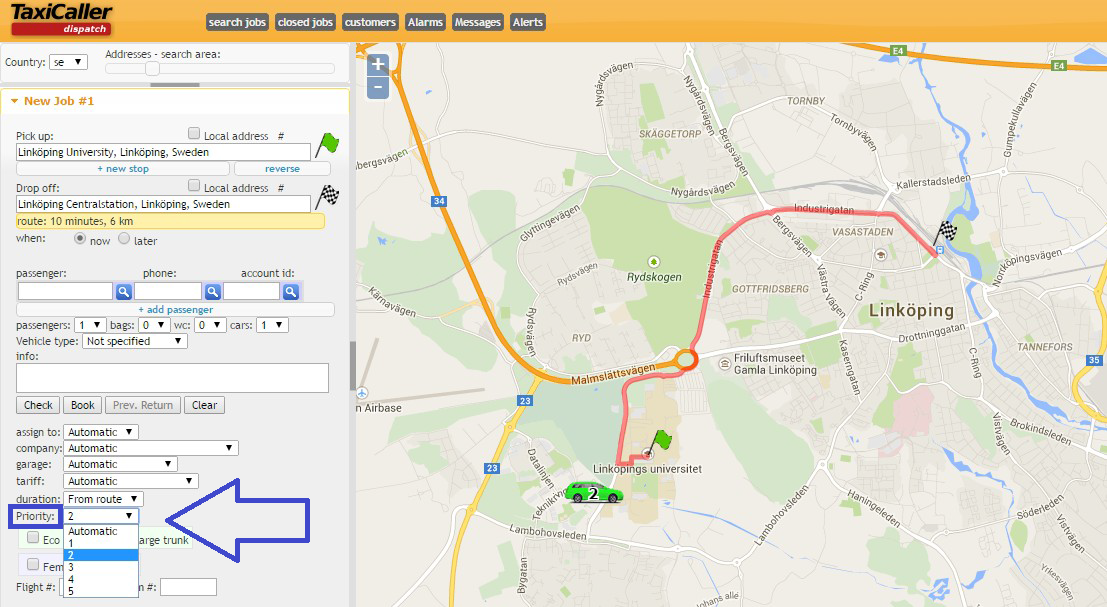 Approved devices - We have added an option to control the driver's ability to start shifts in the driver app from only whitelisted devices. From version 1.9.6 of the driver app for Android and version 1.24 of the driver app for iPhone, a unique, 6-digit device ID is displayed at the bottom of the main screen. In the user's profile in the admin panel, a new field has been introduced where you can enter whitelisted device IDs.


User permission system – We have added support for specifying user permissions for different levels of users. Each user role now has a level associated with it; Standard or level 1, 2, 3 or 4. A new page has been added to the admin panel in which you can configure the permissions: https://admin.taxicaller.net/admin/settings/permissions.php

In the link above, the account owner can set the level required for various actions such as creating jobs, editing jobs, canceling jobs, among others. Depending on how the settings are configured, various actions and buttons will be either disabled or hidden if the dispatcher or driver doesn't have the sufficient permissions.


Vehicle symbol option - An option has been added to toggle between what vehicle symbols are to be displayed on the map in the dispatch console. It is currently possible to choose between displaying dots or the vehicle icon that's been used as default until now.
This option can be found under Appearance in Settings – Dispatch – 1. General in the admin panel.


Dispatcher log-in restriction - A function to limit the dispatcher's ability to log in only from pre-approved IP addresses has been added. This feature works similarly to the Approved devices-option available for drivers, by pre-entering one or several IP addresses that the dispatcher is allowed to log in from, into the user's profile. The dispatcher is then only able to log in when his or her IP address matches any of the pre-approved ones.


Job events - We have now started recording job events and made these available for viewing in the job editor in the admin panel. By clicking on the blue "i" icon on the left of a job, next to the job ID, you can find the job events listed. Examples of events that are recorded and available for viewing are creation of job, assignment (also shows method, i.e. manually or automatically assigned), acceptance of job offer, start of job, closing of job, among others.

Please note! This information started to be logged with this new release on the morning of Monday, 13th of April, so any jobs entered prior to this will not have these values available on them.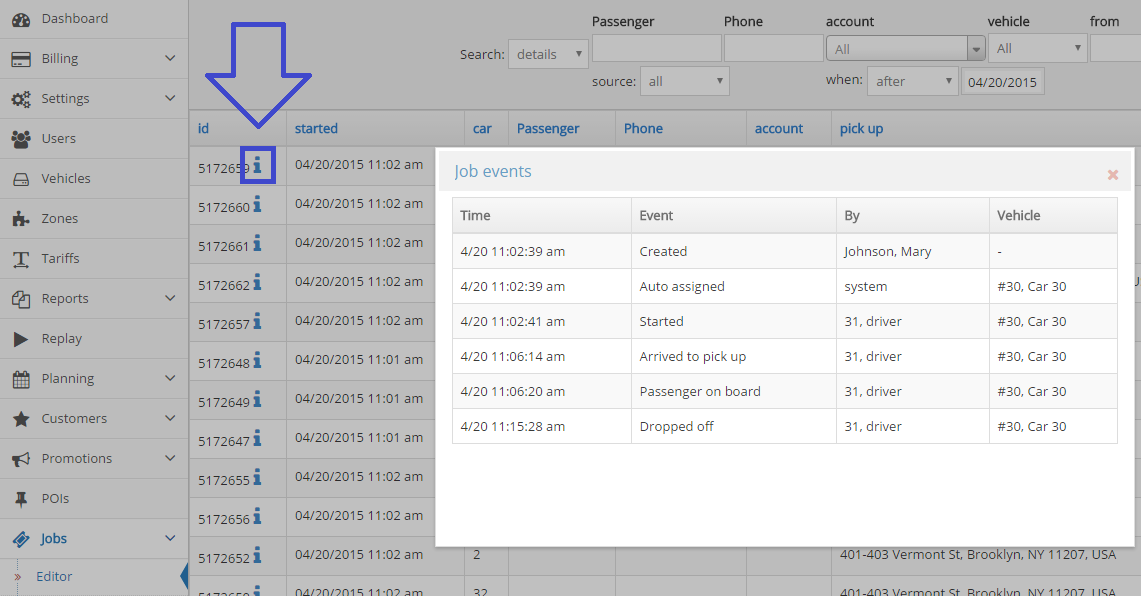 - Android Driver app update (version 1.9.14)


Job offer list - A new tab has been added to the driver app, in which you can see open job offers. When a new offer is available, the tab-icon will turn yellow to notify the driver. In the offers-tab, drivers can bid on or decline jobs offered to him.


Device ID - Each device will now display a unique 6-digit code in the bottom of the main screen. This is used to identify what devices to optionally whitelist in the admin panel.


Auto decimal price input - If the setting "Auto decimal price input" is enabled in the admin panel, all fares are automatically entered with the assumption that the 2 last digits are after the decimal mark.


Automatic check for mobile connectivity - This is used together with the option to log out drivers who turn off their mobile data connection.
As usual, we recommend that your drivers make sure that they have updated to the latest version of the driver app (version 1.9.14). Specifically, all features designed to prevent drivers abusing the system requires that they are using the latest version of the driver app.
Contact

If you have any questions or would like to learn more about something in this newsletter, please don't hesitate to contact us.

Skype: firstlinesupport.taxicaller
Telephone: US (NY): +1 646 583 0590
US (CA): +1 805 626 8268
UK: +44 208 123 1441
INT: +46 8 5592 1950