TaxiCaller Newsletter - February 2017
Recent releases
We added some new features to the system, so we'll go over some of the main updates below to give you more detailed information. To learn more about all of the changes, please see the release notes (17.1) sent by email.
- E-tickets
You can now create batches of electronic vouchers (e-tickets) as a form of payment for your corporate customers. Please check your email for the E-ticket Guide we will be sending out.

To set up e-tickets for your customers, go to the Accounts section in the admin panel and click on Create Codes under E-tickets for a specific customer account.


Dispatchers can now choose an e-ticket as a form of payment when placing a booking in the dispatch console by clicking on Payment Methods and adding the code, as seen below.



To use an e-ticket in app bookings, the passenger will only need to know the e-ticket's ID, or code. When an e-ticket has been used for a ride, it will automatically be consumed in the driver app, but the driver can also add an e-ticket manually.

The e-ticket usage will show up in reports in the admin panel so that the corporate customer's account can be charged accordingly.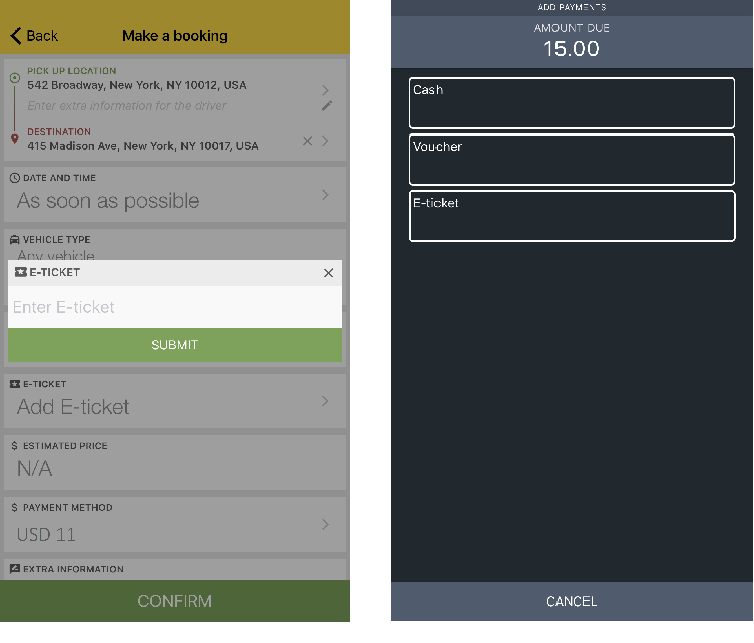 E-ticket in passenger app E-ticket in driver app
Please check your email for the E-ticket Guide we will be sending out.
-Driver permit documents in driver app and dispatch console
The new driver app will make it possible to upload and download images (such as photos of taxi licenses or scanned permits) directly from the app. See the What's New section in the driver app to see how this will work.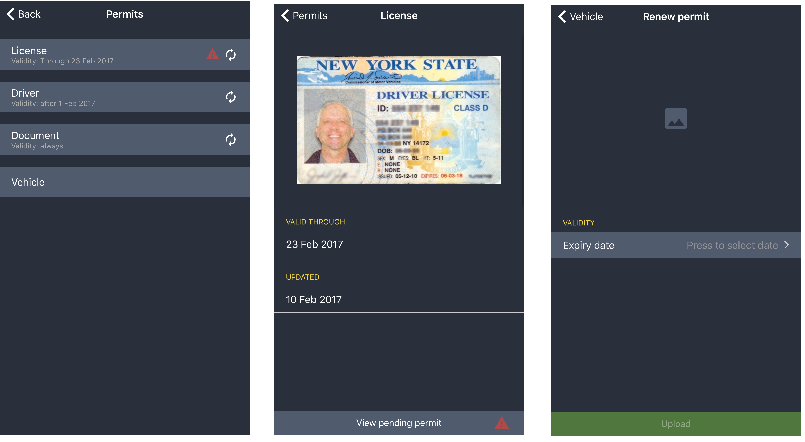 View of all permits View pending permit Upload a permit
To access the permits section in the dispatch console, click on the furthest tab and press Permits as seen below.

In the Permits section, you can now upload images and manage driver permits straight from the dispatch console (previously this was only possible from the admin panel).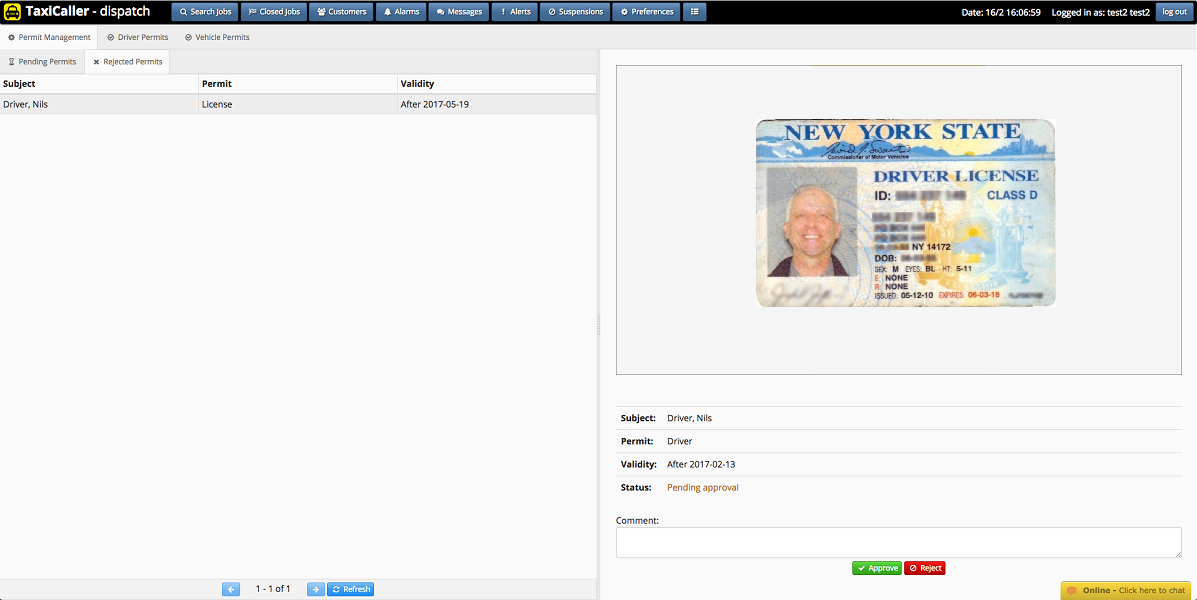 - Dispatch console updates
You can now rearrange the columns of the Jobs Overview menu and also choose which columns you wish to see. Simply click on "Change columns" in the top left corner to uncheck the columns you wish to remove from showing on the screen.


- Extended sound notifications
The driver app can now be set up to include sound notifications for all changes in active or assigned jobs.
Check the setting "Sound notification for job updates" in the admin panel under 2. Assignment of the Dispatch settings to enable this new feature.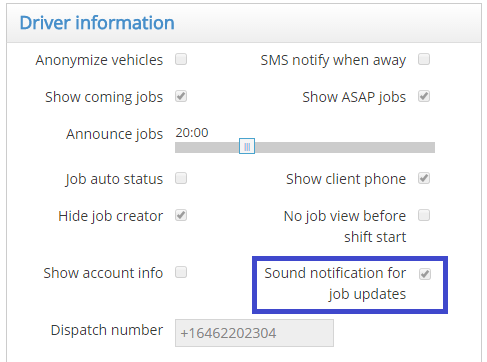 - Admin panel updates
You can now add a new assignment strategy based on ASAP or pre-bookings. For example, you could choose closest car for ASAP bookings and zone queue for pre-bookings.

Access here: https://admin.taxicaller.net/admin/settings/companies.php
Feature Highlights:

- Jobs Overview Tab
Dispatchers have access to a separate view of jobs at the top of the dispatch console with collected info about all jobs (future, assigned and unassigned) in one tab called Jobs Overview.




In this view, jobs are in chronological order, so operators will have an easier time finding a specific job. Dispatchers can also search for jobs by pick up/drop off and passenger name/phone number.

On each row of a job, dispatchers will see when it was assigned, the current status, which car took the job, vehicle type, zone, pick up/drop off, specific times for job start/waiting/POB, driver ETA, passenger info and booking source.


Contact

If you have any questions or would like to learn more about something in this newsletter, please don't hesitate to contact us.

Skype: firstlinesupport.taxicaller
Telephone: US (NY): +1 646 583 0590
US (CA): +1 805 626 8268
UK: +44 208 123 1441
INT: +46 8 5592 1950