TaxiCaller Newsletter - April 2017

Recent releases
We added some new features to the system, so we'll go over some of the main updates below to give you more detailed information. To learn more about all of the changes, please see the release notes (17.2) sent by email.
-Dispatch console updates

When placing a new booking, you will now have a duplicate job check feature. If a booking from the same phone number has been placed before, a pop up will appear as a warning.

This feature filters through jobs based on passenger name and phone number, and job location to find potential duplicate jobs within a certain amount of time.

The duplicate job check is on by default, but you can disable it under Appearances in the Dispatch settings 1. General: https://admin.taxicaller.net/admin/settings/dispatch.php
The dispatcher can now right click on any job in the job tabs or job overview lists to see a list of shortcut actions for the job. Examples of these shortcuts include editing a job, messaging the driver of that job, seeing the job events and much more.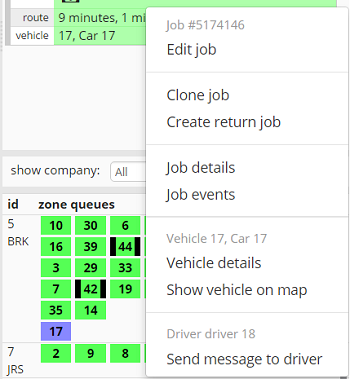 - Admin panel updates

We have expanded our pop-up explanations to better clarify more settings in the admin panel. To see these explanations, simply click Edit and hover over the check box or input field like in the example below for the new taximeter UI setting.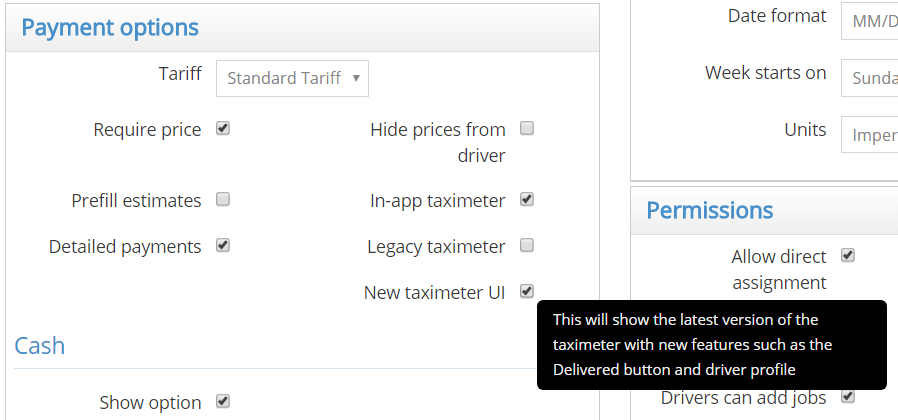 - Promo code updates

To enhance the promotions feature, we have now added promo codes by company, discount by percentage and a new report for you to track the effectiveness of your promotions.

With the promo codes by percentage discount, you can also set a maximum value of the trip so that the discount will not go over a certain amount (as seen below).

Access the new promotions report here: https://admin.taxicaller.net/admin/reports/custom.php
- Driver app updates

Drivers can now email their daily, weekly or monthly job reports straight from the app! In the Shift History tab, there is a button at the bottom to email these reports.

The driver will then add their email, or the company/manager email, for the reports to be sent there to then be forwarded or printed out. They will also need to choose a time frame for the report (today, yesterday, this week, last week etc).

The report that is sent is the driver jobs report from the admin panel, found here:

https://admin.taxicaller.net/admin/reports/reports.php




You now have the option to use our more advanced taximeter design. There is a new driver profile section, a Deliver button and much more.
On the new taximeter design, you can press the white "i" icon in the Status field to get more information about the job such as initial price and specific rates for that job.

To use the new taximeter, check the setting "New taximeter UI" under Payment options in the Dispatch settings of the admin panel: https://admin.taxicaller.net/admin/settings/dispatch.php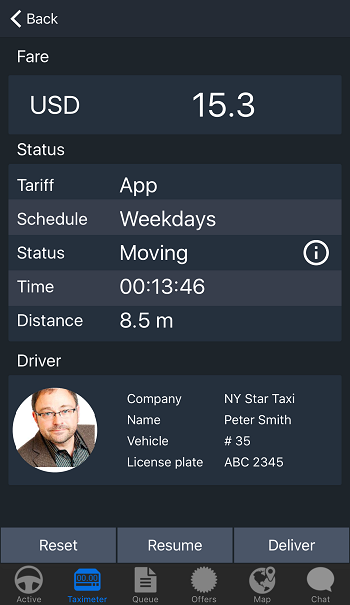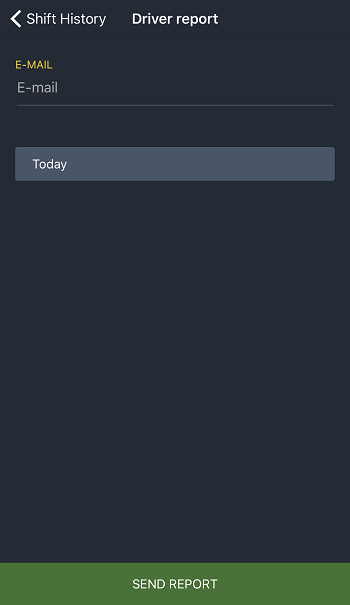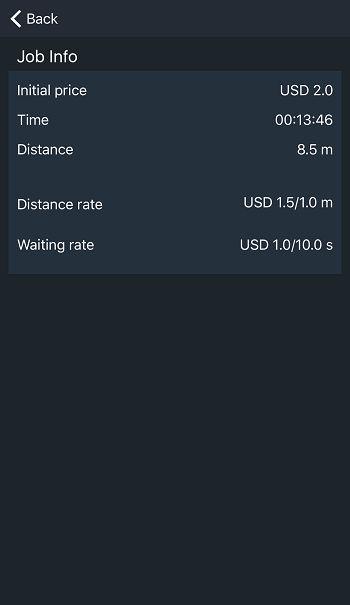 You can now set up automatic accounting for drivers. This allows you to set your fare charge rate and track driver transactions to make driver payments simple and easy.
Set the fare charge rate in each driver profile under Driver options in the admin panel.

Set this up in the Bank tab of the admin panel: https://admin.taxicaller.net/admin/bank/auto-accounting.php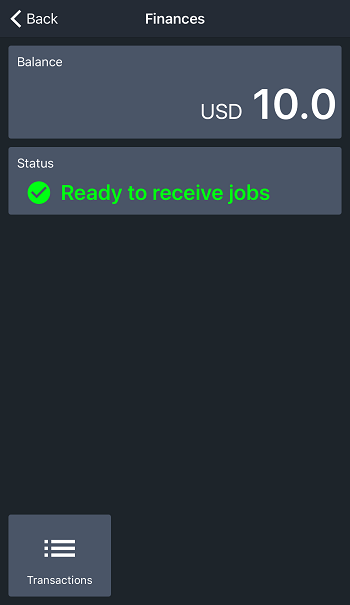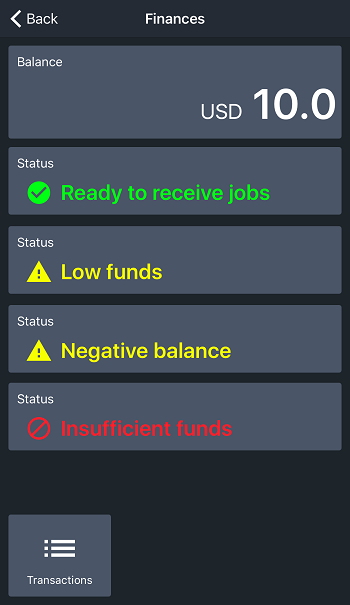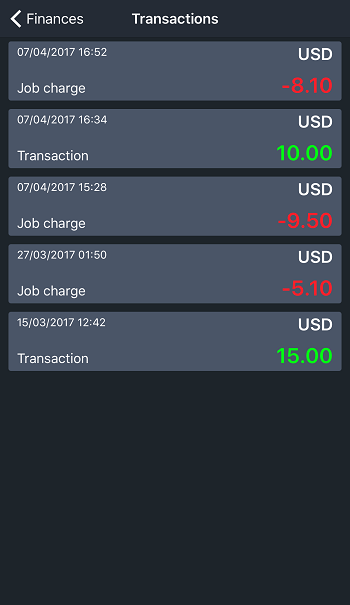 If drivers have a positive balance, they will see their status as "Ready to receive jobs."

There are also warnings such as "Low funds" when they are close to a negative balance and "Insufficient funds" when they do not have enough on their account to receive jobs.

In the Transactions tab, drivers can see all the deductions for each job, when they've added funds and any other activity on their account.

A tutorial on how to set up the driver finances feature will be available shortly.
- Passenger app updates

We have redesigned the Payment Method flow so that all options that can be used for payment are included in one tab.

There is no longer a separate section in the "Make a booking" screen to enter promo codes or e-tickets. All options will be added in the new Payment Method tab.

We've also added a phone verification feature for both app and online bookings which will require your passengers to enter a four digit code sent to their phone number before they can make a booking.
Enable this feature under the Online Booking section of the Dispatch settings on 1. General: https://admin.taxicaller.net/admin/settings/dispatch.php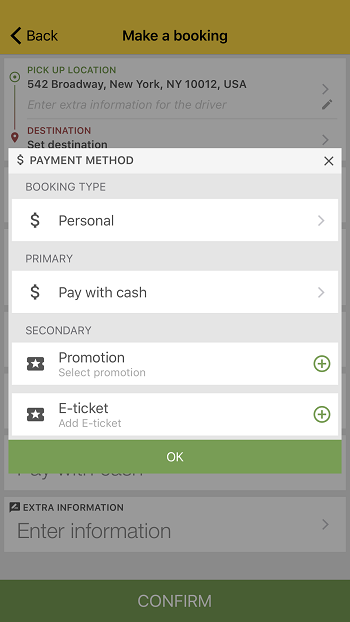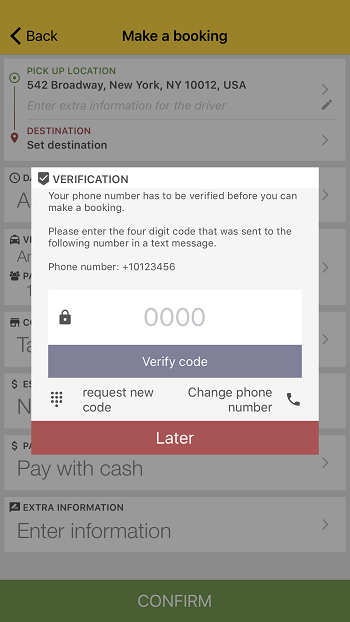 Feature Highlights:


-Driver permit documents in driver app
Upload images (such as photos of taxi licenses or scanned permits) directly from the app.

Set up Permits in admin panel first: https://admin.taxicaller.net/admin/settings/permits.php


Contact

If you have any questions or would like to learn more about something in this newsletter, please don't hesitate to contact us.

Skype: firstlinesupport.taxicaller
Telephone: US (NY): +1 646 583 0590
US (CA): +1 805 626 8268
UK: +44 208 123 1441
INT: +46 8 5592 1950