TaxiCaller Newsletter - May 2018
Release notes 18.2
We've added some new features to the system, so we'll review each update to give you more detailed information.

GDPR compliance
On May 25th there will be a new law taking effect in Europe, affecting all businesses with customers in the European Union called General Data Protection Regulation (GDPR).
We at TaxiCaller have been preparing our system for GDPR since the end of last year and with this release we are now GDPR compliant.
TaxiCaller highly values the integrity, privacy, and security of our customers and are continually working to improve our system.
How to accept the GDPR agreement:
When you log into the Admin Panel you will see a pop up with the GDPR agreement. Please read and accept the agreement to continue.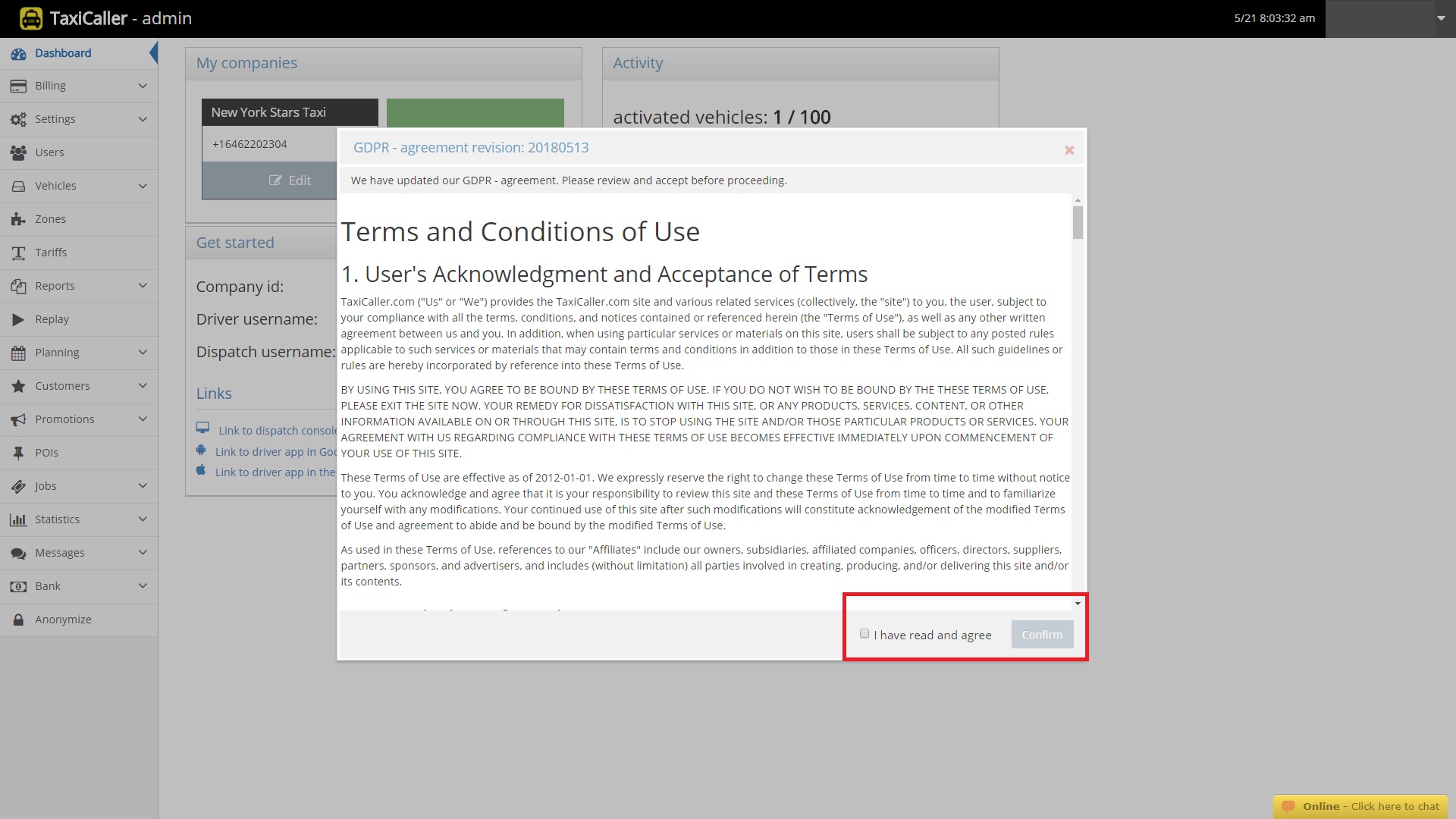 Accept our new terms and conditions before adding funds:
To add funds to your account, you must accept our new terms and conditions if you didn't accept in the pop up announcement on the dashboard of the Admin Panel.
To access your billing information, please click here.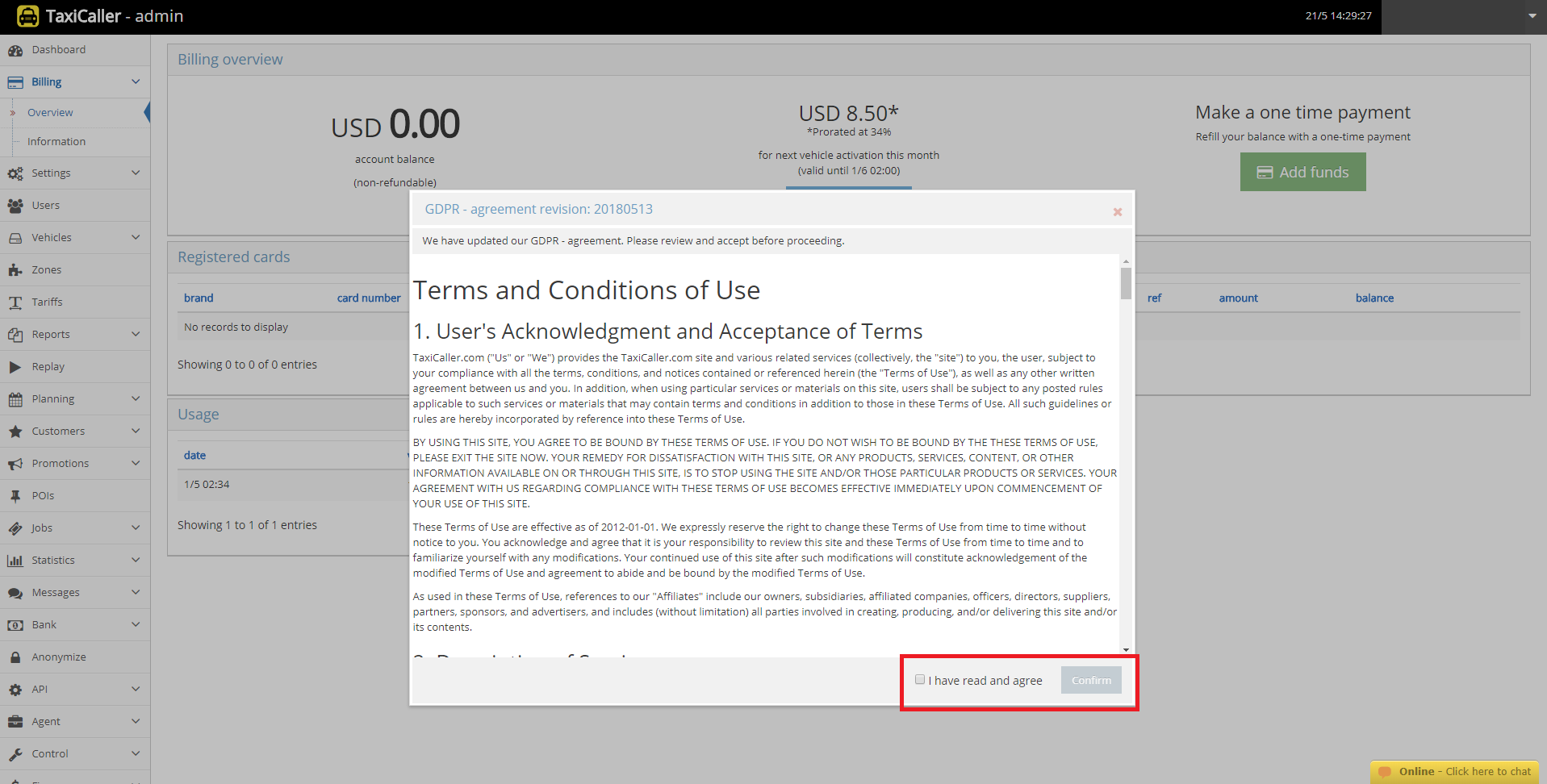 Complete your billing information
Before adding funds to your account make sure to fill in the address, city/town, postal code, and country information.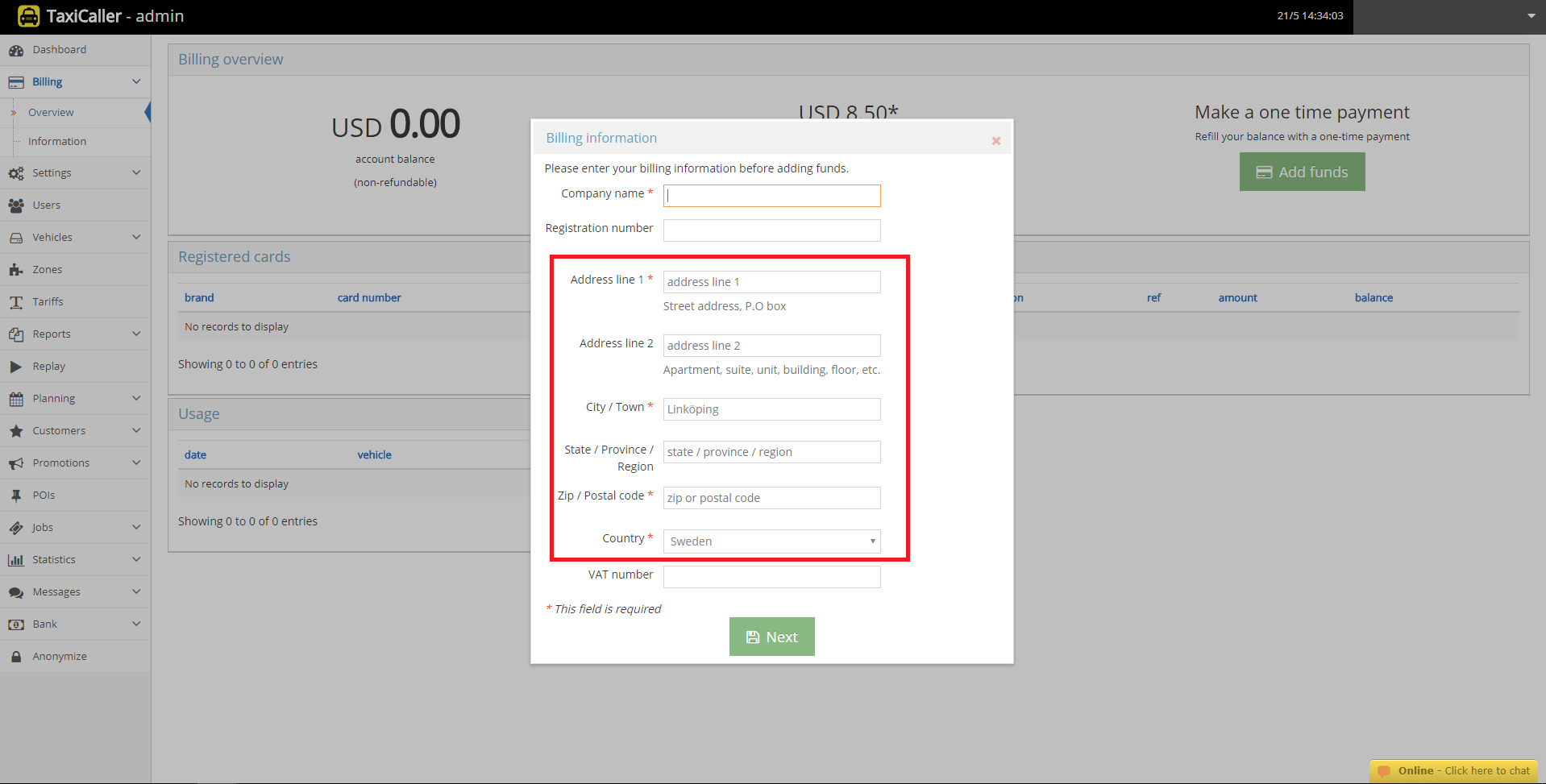 Anonymize your customer data from a new section of the Admin Panel
In the Admin Panel, you can access the new section "Anonymize". There you'll be able to manage, download or delete the data from current customers and jobs.

To prevent unintentional deletion of data, trips completed within 6 months can only be anonymized if your search results are fewer than 100 jobs or 5 customer accounts. Jobs older than 6 months can be anonymized in larger amounts.
You can access this section by clicking here.
Select jobs: You can anonymize old jobs from specific clients searching by client name, phone numbers, account number, and other personal information.
Remember that you can download all the information by clicking on the "Download" button.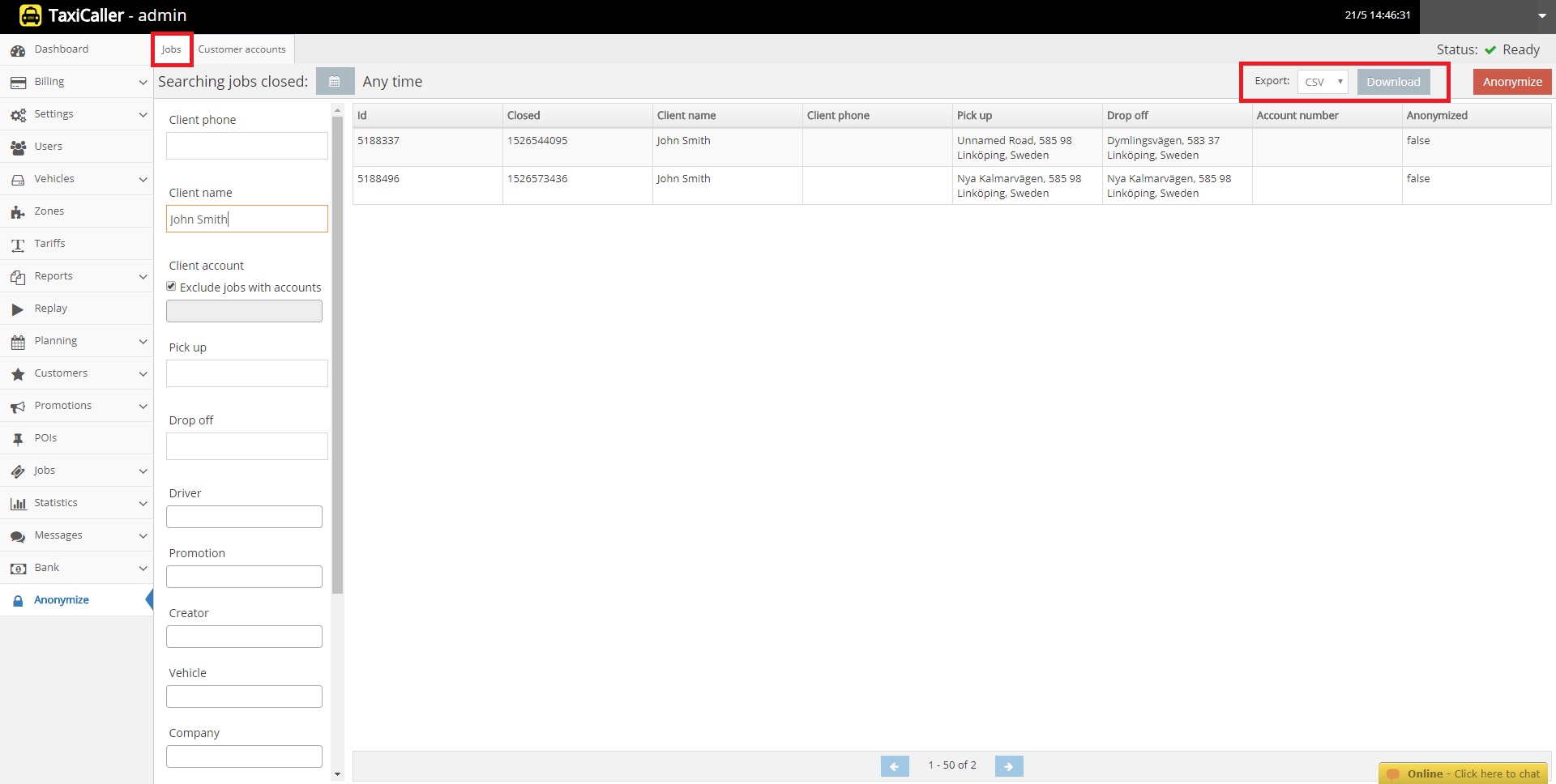 Select customer: You can search the customer information that you wish to anonymize, for example, old customer accounts that haven't been used in a given time. Select them by first name, last name, account ID or contact information.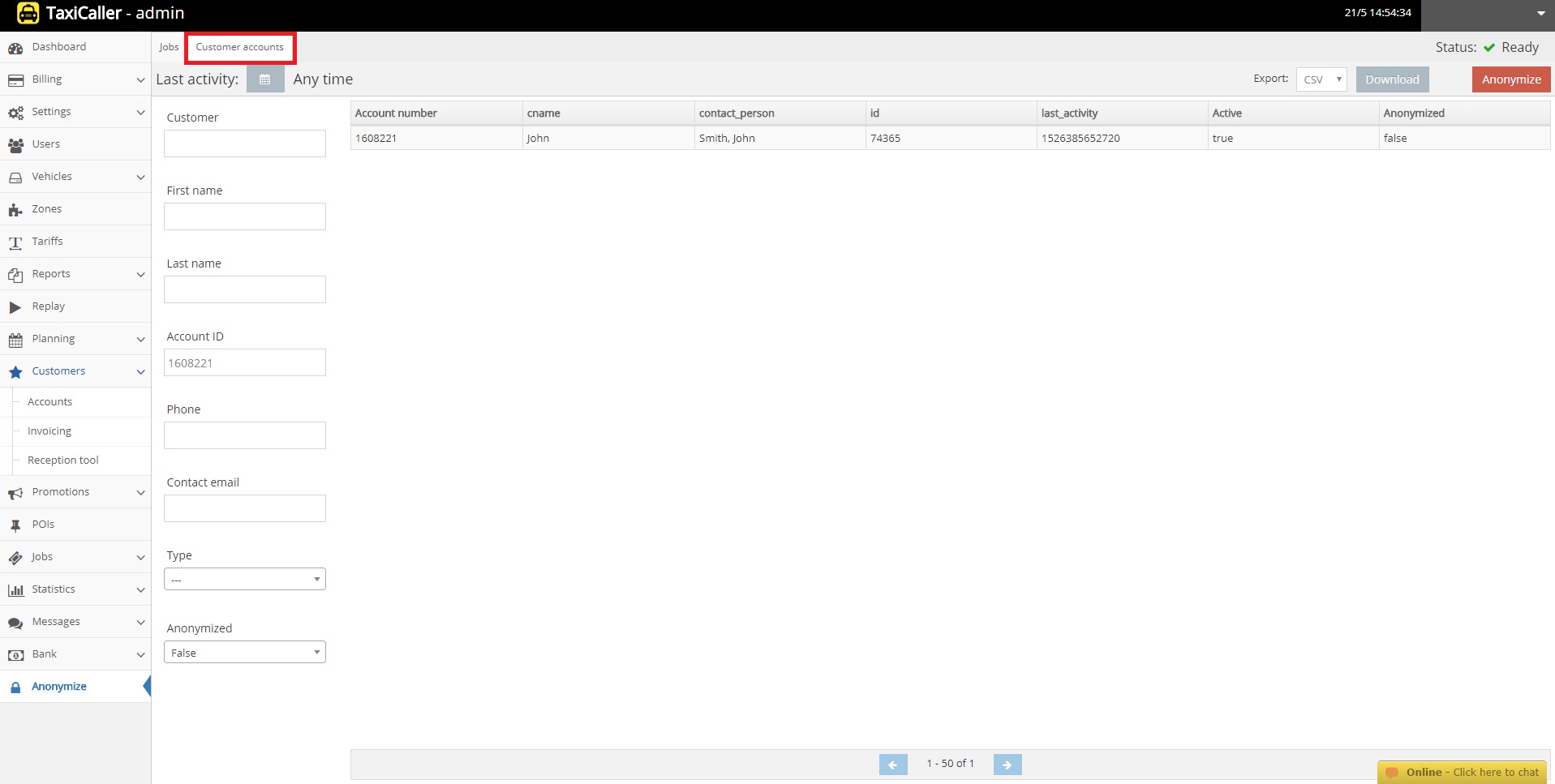 Anonymize warning
To prevent accidental deletion of information, we will ask you to type the word "Anonymize" before any changes are made. Remember that the data records may be stored in our backups for a limited time. Please note that any attempt to retrieve anonymized data from our backups will be charged at an hourly rate, regardless if restoration is successful or not.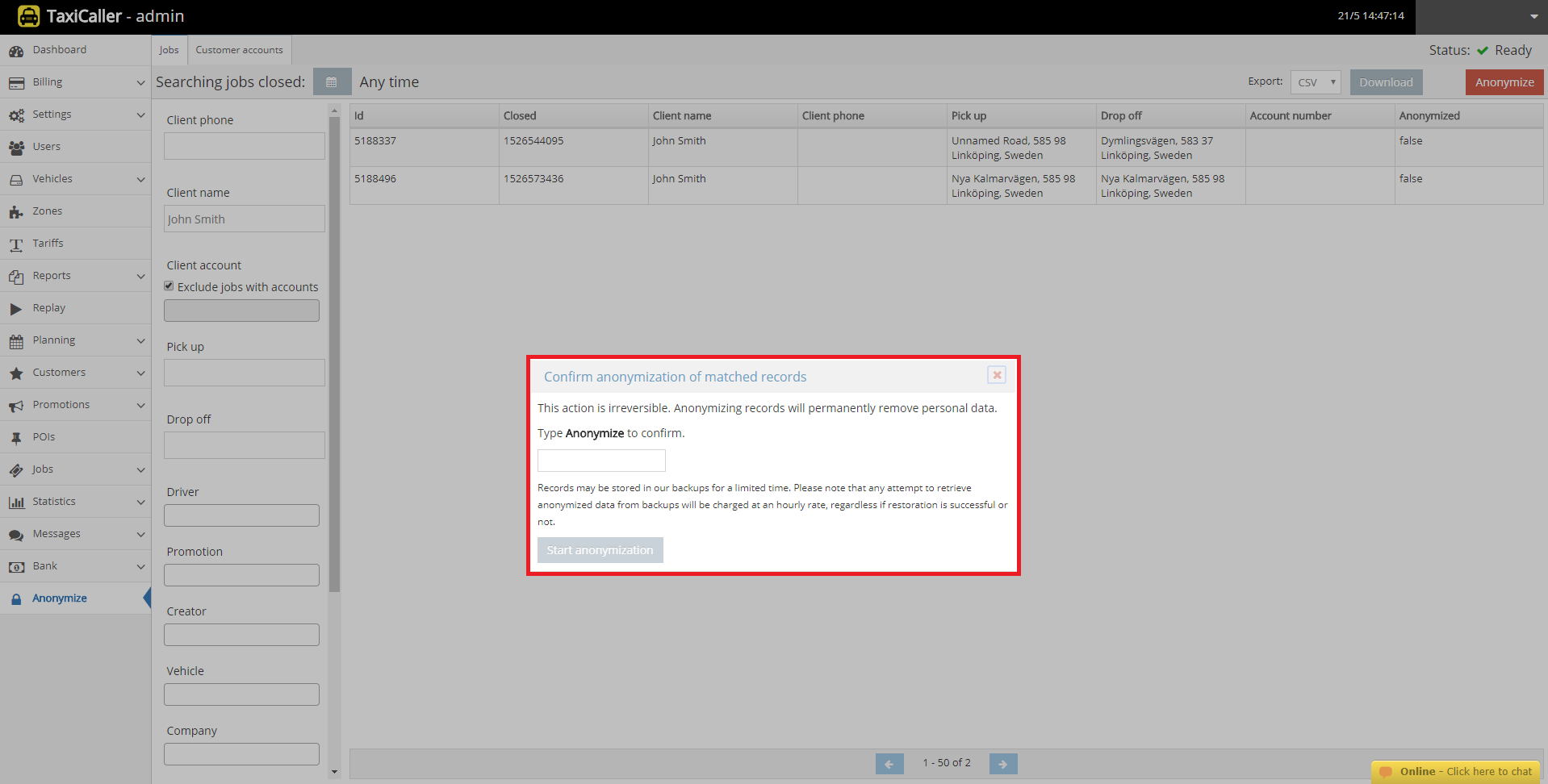 Prevent drivers from viewing jobs in the driver app after they have been completed
Now you can hide jobs older than a certain amount of time that you select, so these cannot be viewed from the driver app. To do this, from the Admin Panel go to Settings > Dispatch > 2. Assignment > Driver information.
Please, click here to go to the section.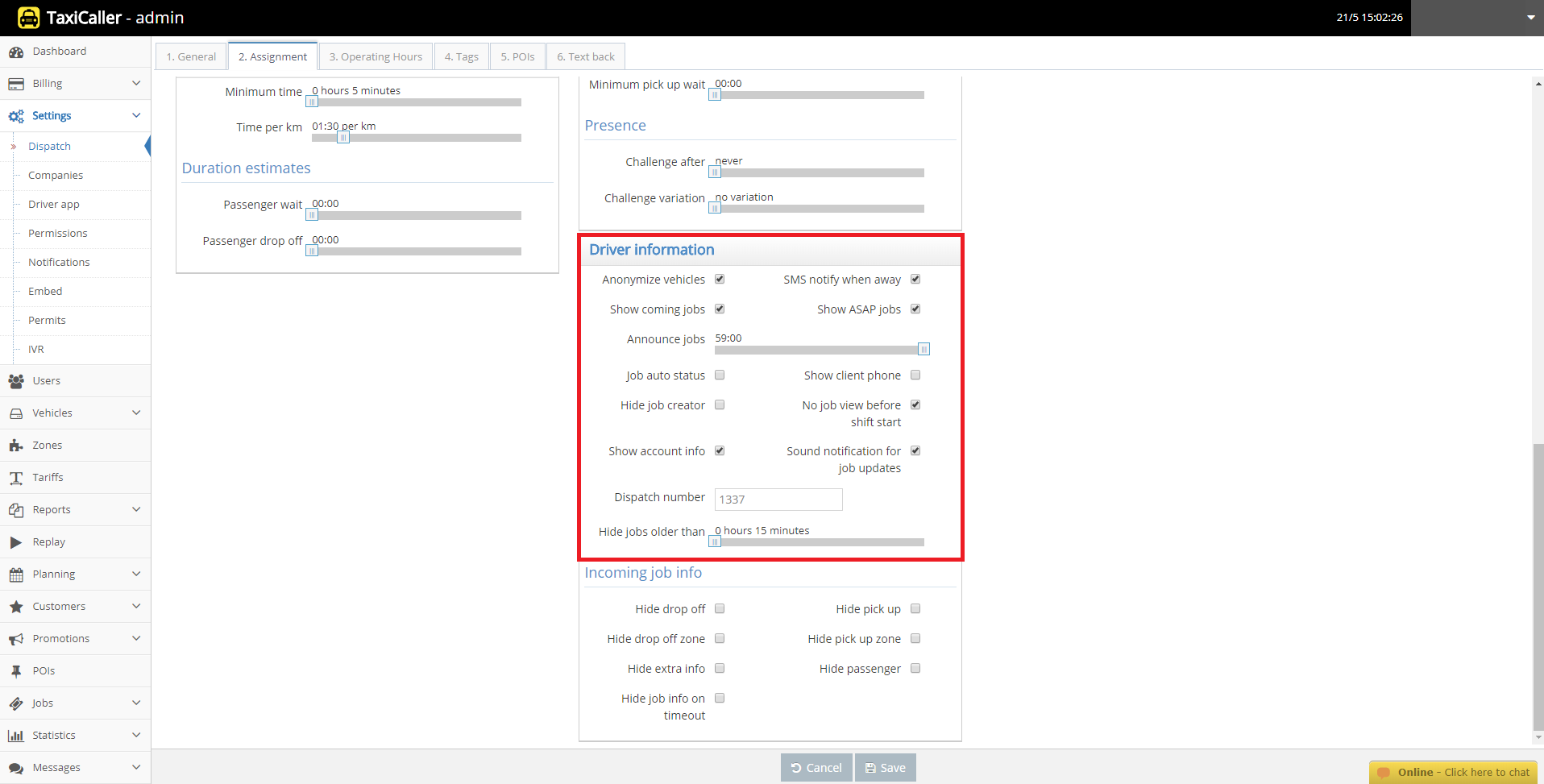 Once you're in the Driver information section, look for the sliding bar beside Hide jobs older than. Any jobs older than what you choose here will be hidden from the driver app.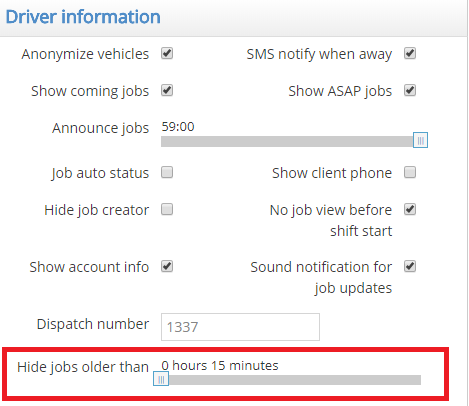 Option to delete old messages
You'll have the option to delete specific messages from chat between dispatchers and drivers. Just select the sender, receiver or the date and delete the messages from the results of the "History" section.
The messages section can be found by clicking here.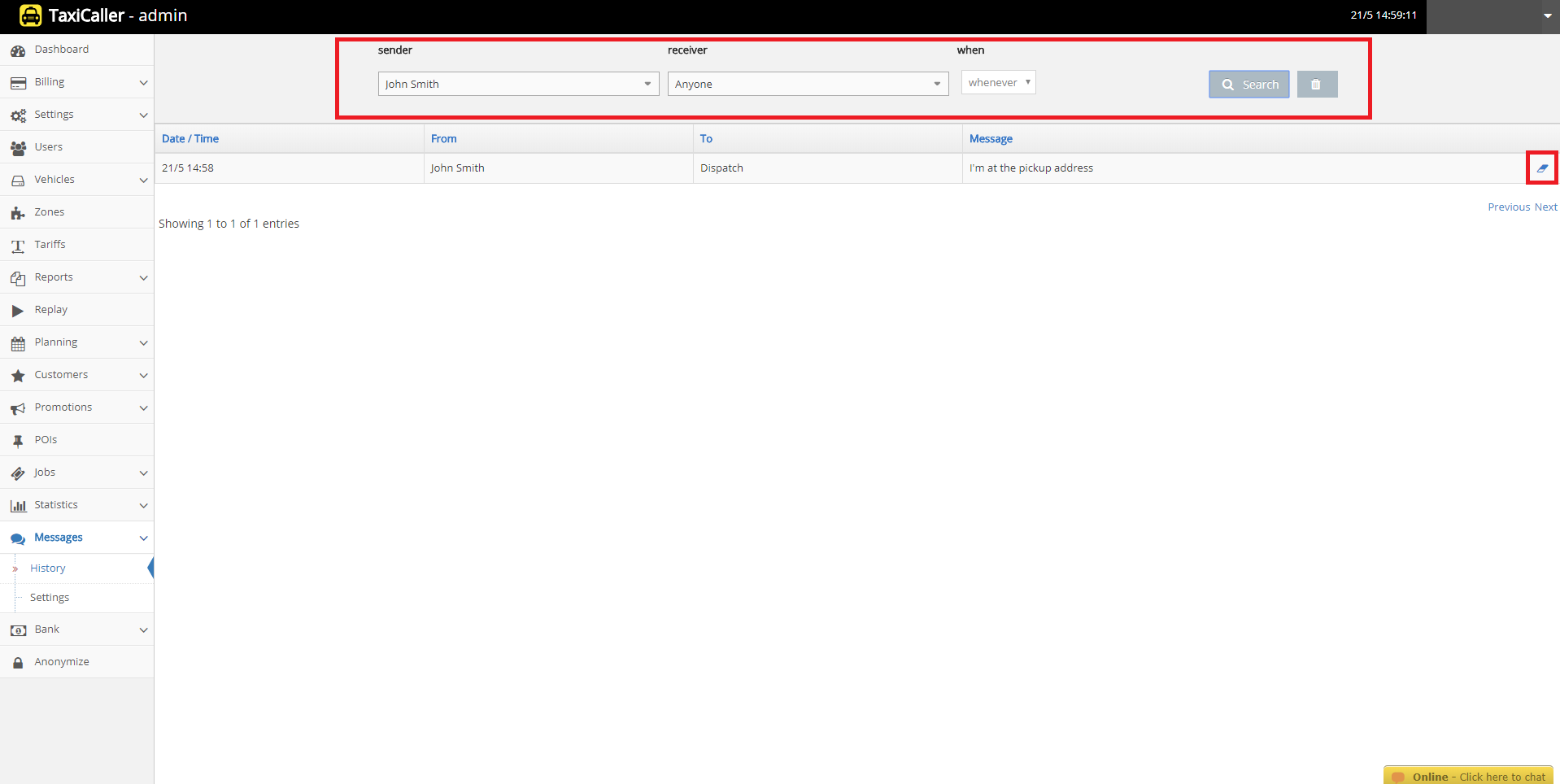 Add information about secondary passengers from dispatch
Now you will be able to add the name, phone number, and email for all passengers of a booking. As you ad new passengers, the passenger counter will also be updated. This information will be available in reports as well.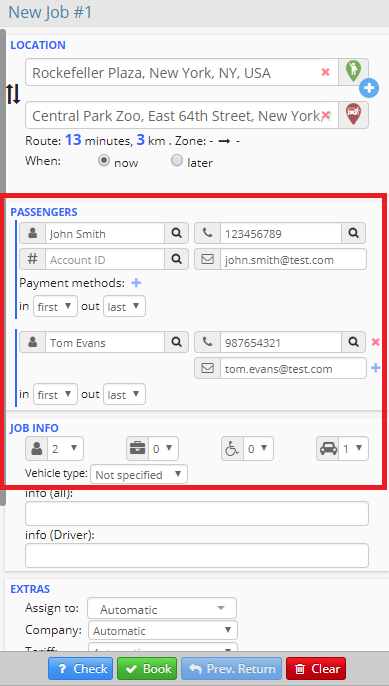 Vehicle details by clicking on the map
Now you can get the vehicle information simply by clicking on each vehicle on the map in the Dispatch console. This allows for easy access to information like driver name, car model, suspensions, among others.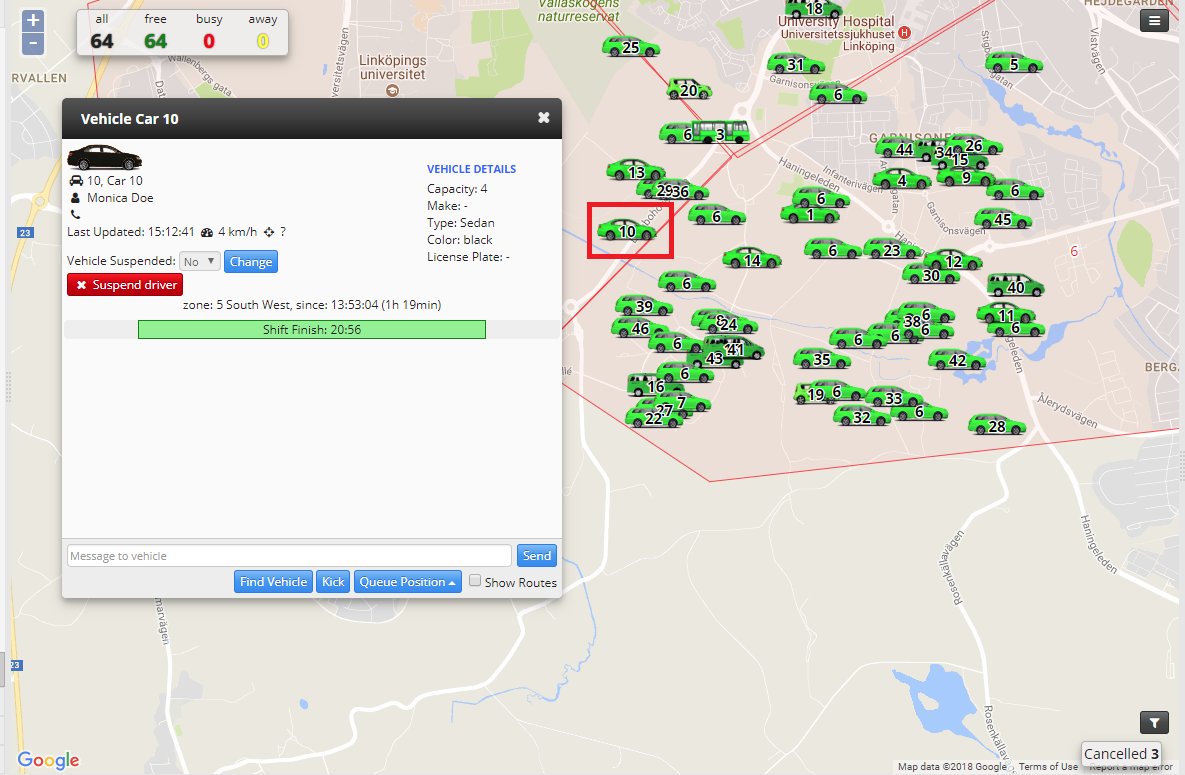 Send messages to zones
Now, the dispatcher can send a specific message to the drivers that are in a particular zone from the Dispatch console.
Just go to messages in the Dispatch console and you can select the zone where the drivers are going to receive the message.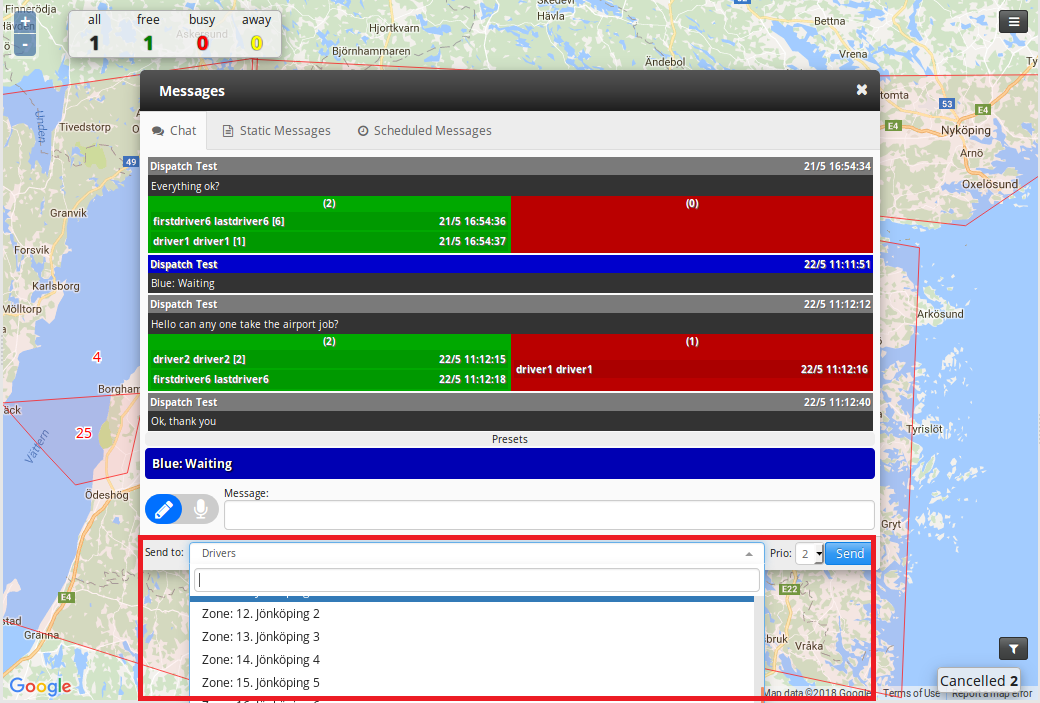 Contact
If you have any questions or would like to learn more about something in this newsletter, please don't hesitate to contact us.
Email: [email protected]
Skype: firstlinesupport.taxicaller
Telephone: US (NY): +1 646 583 0590
US (CA): +1 805 626 8268
UK: +44 208 123 1441
INT: +46 8 5592 1950