Release Notes 20.2
Automatic Stripe Payments Under $100
Payments for trips booked with in-app payment processor Stripe can now be automatically charged if the trip value does not exceed $100. Trips that exceed $100 will still need passenger confirmation to process. It is possible to turn this feature off. Contact TaxiCaller Support if you would like to do so.
Demo the Passenger App in Dispatch
You are now able to test Passenger App booking when demoing the system, without the need to have online booking enabled by TaxiCaller. In the Dispatch Console, under Preferences, click the PASSENGER APP DEMO button to bring up a demonstration-version of the Passenger App. You can test bookings via the Passenger App through this demonstration-version for up to one hour. After one hour the demo app will stop functioning. But you can repeat this process and test again for an additional hour.
Please note: The demo-version of the Passenger App is for demonstration purposes only!
Filter by Company in Jobs Stats
In the Dashboard, you can now display information and data on a company level. Simply filter for the company of your choice in Job Stats.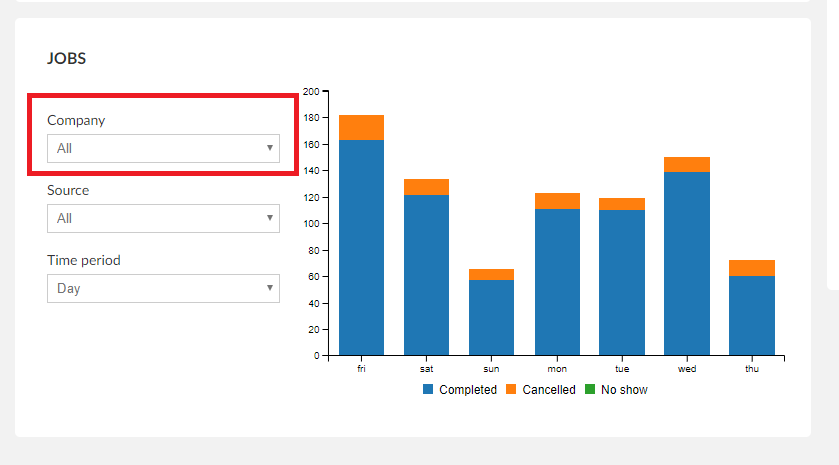 News Delivered to the Admin Panel
We've added a News section to the Admin Panel. Keep up on new features, the latest releases, and see what's happening at TaxiCaller!
If you have any questions or would like to learn more, please don't hesitate to contact us.
Skype: firstlinesupport.taxicaller
Telephone: US (NY): +1 646 583 0590
US (CA): +1 805 626 8268
UK: +44 208 123 1441
INT: +46 8 5592 1950