Release Notes 20.4
Revamped Shift Rules and Settings
This entire section has undergone a major facelift and had some minor fixes done as well.
New, easier to use, more intuitive Graphical User Interface (GUI).
Prevent drivers from logging in at times they are not supposed to.
Drivers will not be automatically logged-out while on a job.
Gives the option to not assign jobs to drivers who will be unable to complete them before the end of their shift.
Drivers will now be correctly suspended when their shift ends.
Unsaved, edited schedules will not be lost.

Log in to the Admin Panel to check it out. Enjoy!
Add and Edit Passenger E-mail Address
Have you ever come across a situation where the passenger's email is incorrect, making it impossible to email them a receipt after the job? Well, that was then. Now, it is possible to add and edit customer email addresses—even for closed jobs--in the Admin Job Editor. You can email receipts to customers even if they did not provide a correct email address when booking the trip.
Phone number visibility in Rebranded Passenger Apps
You can now specify if the phone number displayed in your Rebranded Passenger App belongs to the vehicle or the driver. You can also decide not to show the phone number at all. It doesn't get more flexible than that.
A new reason for Cancelling Jobs
Now, you have the option to remove the choice "Other" when canceling a job. If this setting is activated, the driver can only choose "No show."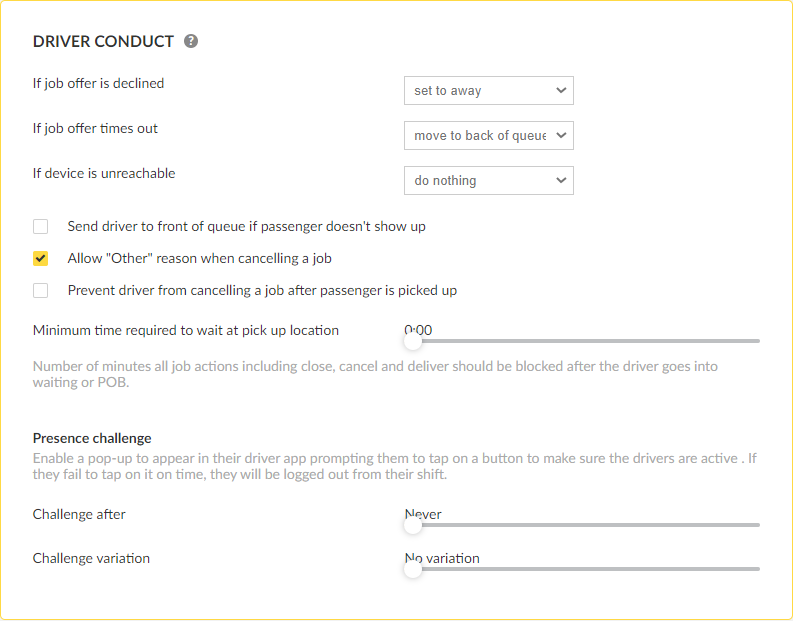 Paymentez - New Payment Provider
For those of you operating in Ecuador, Chile, Colombia, Peru, Mexico, or Brazil we have some exciting news. TaxiCaller now supports Paymentez for in-app payments on Android Driver Apps! Great for you, great for your passengers.
To integrate your account with Paymentez, contact your Account Manager or send a webchat to our support team, and we will initiate the process on your behalf.
If you have any questions or would like to learn more, please don't hesitate to contact us.
Email: [email protected]
Skype: firstlinesupport.taxicaller
Telephone: US (NY): +1 646 583 0590
US (CA): +1 805 626 8268
UK: +44 208 123 1441
INT: +46 8 5592 1950