Release Notes 21.5
Print Your Fully Customized Passenger Receipts
In this release, we are excited to introduce you to the possibility of creating customized printed passenger receipts. Just follow a few simple steps to create your own receipts.
You can create your receipt in the left-hand section, by simply typing in the text which you want to appear. Use tags to add trip-specific information to make your messages fully customized and more informative. To add customized tags, simply position the cursor where you want the tag to appear in the receipt, then click on the correct tag in the middle section.
Add all the information that you want, and in the section to the right, you will see an example of the final receipt. When you're happy with it, remember to click the "Save Changes" button.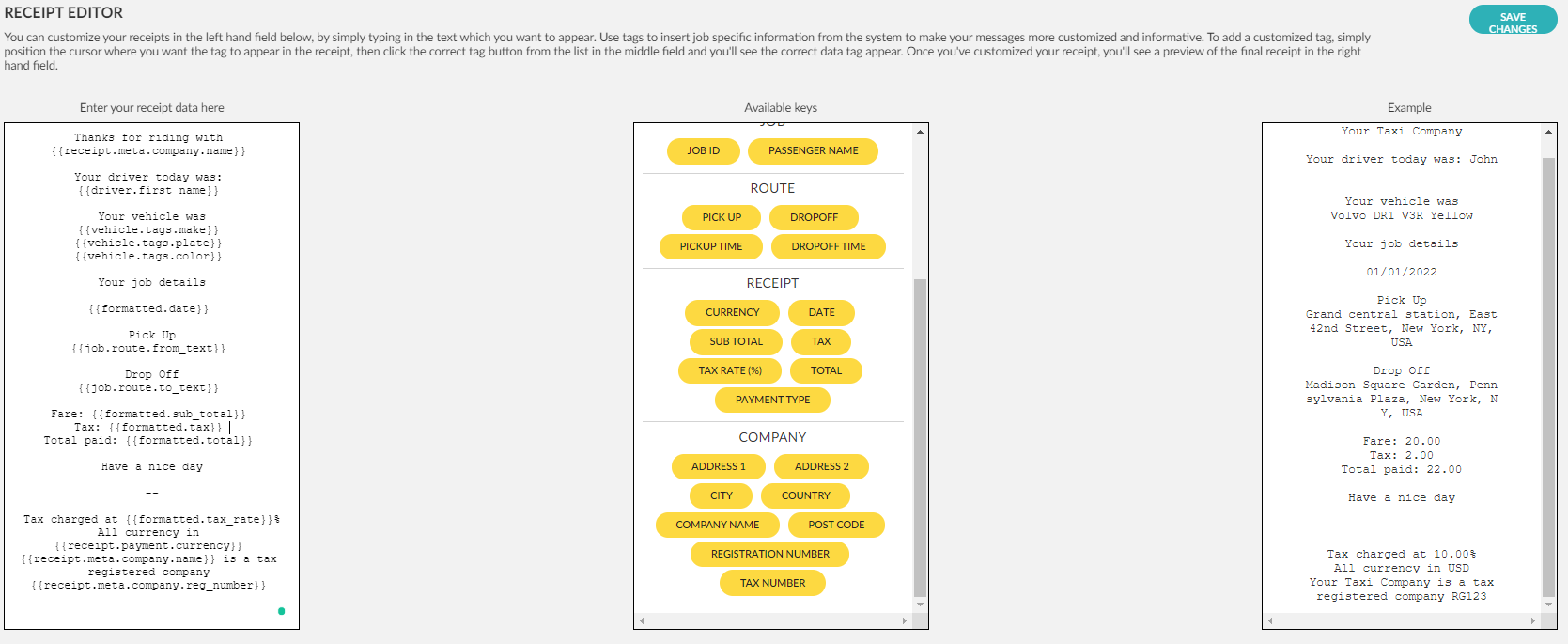 The final step is to connect a Bluetooth printer to the Driver App. We currently support the Star LM-200 printer, and most ESC/POS 58 mm Bluetooth thermal printers - reach out to our support team to make sure your printer is supported!
To the Guides
Set up the Driver App for Receipt Printing
How to use the Receipt Creator Tool

New Driver Shift Settings
If you operate in a market that has specific rules on driver's shifts, and breaks within and between shifts, these new settings options are definitely for you. With these settings, you can enforce mandatory breaks after a certain amount of time. You can also decide how many of the driver's breaks should not be included in the total shift time.


Additionally, each driver's shift information can now be found on the vehicle dialogue screen in dispatch.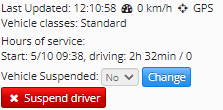 To the Shift Information User Guide.
Job History Restrictions in the Reception Tool
When you invite new users to the Reception Tool, you can now restrict how much job history each user can access. If the 'Account reports' check box is selected, the user will be able to view all job history for the entire account, while if left un-selected, the user will only see the jobs which he or she created.

That's it for now, we hope you appreciate the new updates. If you have any questions or would like to learn more, please don't hesitate to contact us on the web chat or by e-mail, Skype, or phone.
Skype: firstlinesupport.taxicaller
Telephone: US (NY): +1 646 583 0590
US (CA): +1 805 626 8268
UK: +44 208 123 1441
INT: +46 8 5592 1950