Release Notes 20.1
Rearrange Tariff Rules with Greater Ease
It is now possible to change the order of your tariff rules without deleting and recreating them. Simply drag-and-drop the tariff rules to arrange them in the order of your preference. Just don't forget to press SAVE after closing the tariff rules window!
Create Tariff Rules for Vehicle Classes

Now you can have different fares for different vehicle classes. Manage this from the TARIFF RULES tab.
Vehicle Class Info Now Available in Dispatch
Now you can see and edit vehicle class in the dispatch console. This can be done within the job itself. Look in the JOB INFO section, just below the VEHICLE TYPE field. The default setting for this field in the Dispatch Console will be "Not specified."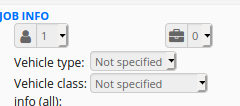 Just One Tab for Vehicle Class Settings
It's easier to create and edit vehicle classes and change vehicle classifier settings in one place within the Admin Panel now. All the settings in the VEHICLE CLASSES and VEHICLE CLASSIFIER tabs are now combined under the VEHICLE CLASSES tab.
Resend Lost Receipts
You can now resend receipts that have already gone out. If for some reason the receipt did not reach your customer after the conclusion of the job you can send it again. Simply click the RESEND RECEIPT button at the bottom of the JOB DETAILS window in the Dispatch Console.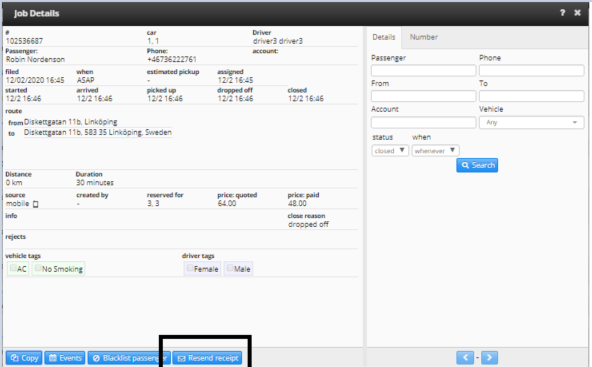 Pre-bookings with More Advance Notice
You now have the option to allow online pre-bookings to be made up to 180 days into the future. This setting can be found in the Admin Panel under BOOKING APPS, ONLINE BOOKING. It is still, of course, possible to manually book advance trips with even more notice in the Dispatch Console.
If you have any questions or would like to learn more, please don't hesitate to contact us.
Skype: firstlinesupport.taxicaller
Telephone: US (NY): +1 646 583 0590
US (CA): +1 805 626 8268
UK: +44 208 123 1441
INT: +46 8 5592 1950