This manual is about all the functions you can find in the new version of the admin panel.
If you use our legacy version of the admin panel, please click on the top bar and select "Legacy" instead of "New admin".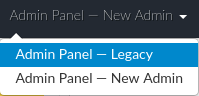 Alternatively, click here: Legacy admin panel manual
Please see our other manuals:
Please feel free to explore the various sections of the manual by choosing a topic from the left menu.