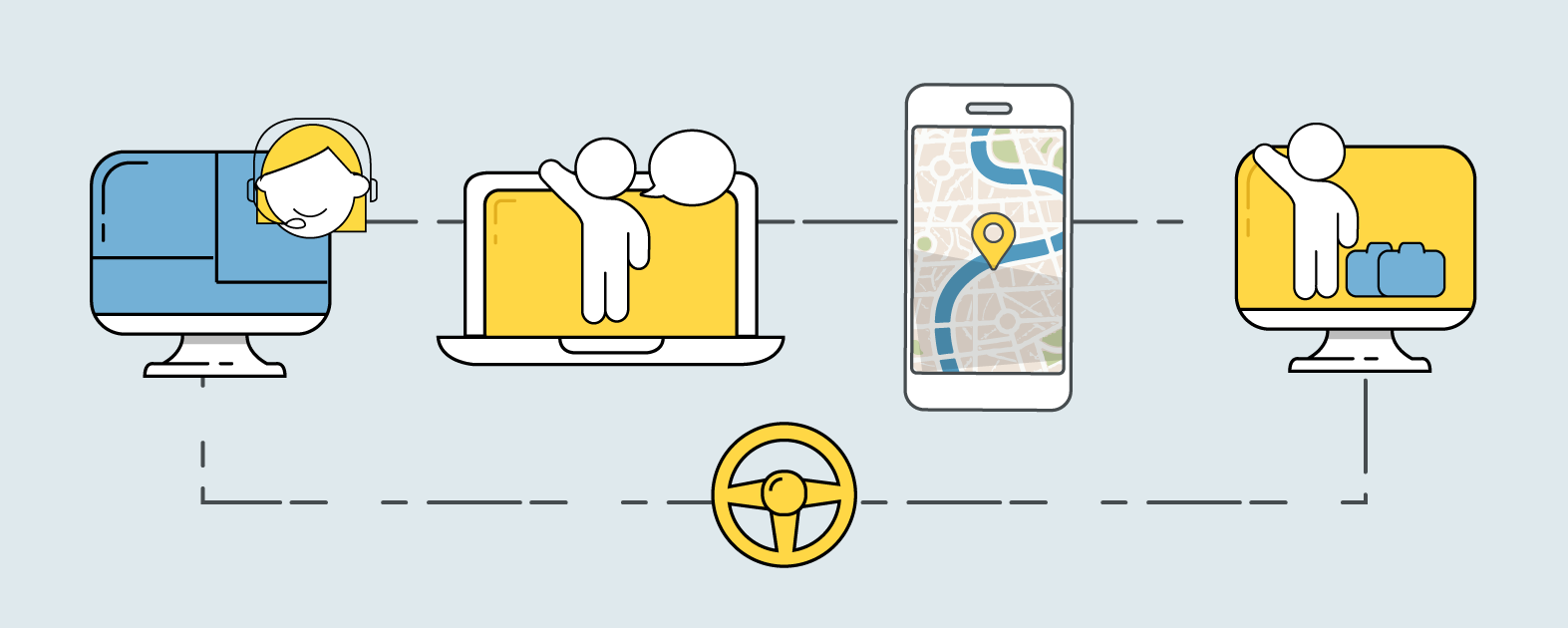 Booking Options for Everyone on Your List
Our modern lives are hectic. We need solutions to our problems at the touch of a button. The challenge in the taxi industry is to give clients cutting-edge technological conveniences that don't leave those who prefer traditional booking methods out in the cold.
If that gives you a tingle of anxiety, fret not. When it comes to booking channels, TaxiCaller has goodies for techies and the tech-averse alike.
The Traditionalist
Beyond an outstretched arm, the phone is the most basic means of, well, calling a taxi. With that in mind, we've integrated Interactive Voice Response (IVR) into our booking system. When a client calls they're able to effortlessly book a taxi, right over the phone, especially if they've called before, as the IVR system stores the pertinent info associated with their phone number. The job then automatically pops up in your Dispatch System, ready for assignment to a car and driver, or automatically assigned based on your preferences. The perfect present for clients who prefer to keep it classic.
The App Aficionado
For those wishing for access to everything right from their smartphone or tablet, our Passenger App is a must-download. With the Passenger App, booking is as easy as two taps. Clients see an immediate fare estimate before they book and when they pay they can do so through the app as well. To make it personal and convenient we've stuffed the app with user options – like the ability to save favorite locations or book certain vehicle types.
The Multitasker
The web-booking feature is a wonderful way for customers to keep their checklists short. How helpful for individual clients who are at the office, or otherwise tied to a desktop, to quickly pull up your website and book a cab right when they think of it – in advance even. The real-time booking map and booking form are as easy as pie, by design. And if your client needs to step away from their desk after they've booked online, they can track their reservation right on their phone!
The CEO
Beyond the time-honored methods, we've got so many booking gadgets guaranteed to make your corporate clients giddy. The Reception Tool gives corporate customers the star treatment by allowing businesses, such as hotels and restaurants, to use a personal login to access direct booking via your own website.

If they want even more flexibility, our Kiosk Booking system, via the TaxiCaller Express app, provides a channel for instant, on-the-go bookings. The doorman of a Manhattan hotel can stand on a crowded New York sidewalk, tablet in hand, and use the Express App to secure one of your taxis – instantly. So simple, so efficient.

The Techie
A brilliant choice for larger fleets that already maintain websites, apps, or other booking systems, but want to integrate our cutting-edge tech as well, is Application Programming Interface (API). API ensures that you can tailor our system to your company's express needs. It's the perfect blend of your tried-and-true and our brand-spanking-new.
Whatever your vision – whatever your clients' wishes – we've got options to delight you. Find out more at taxicaller.com